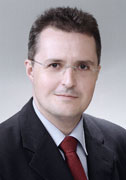 Harald Conrad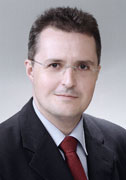 Economics/ Social Science: Social Policy
(Researchers, July 1, 2000 - March 31, 2007)
Social Security System and Labour Market
As is the case in many other industrialized countries, Japan is currently seeking a new paradigm in its social security arrangements. Against the background of a rapid globalisation the social security system as well as the labour market have been undergoing significant changes. In my predominantly economic analysis of the pension, health care and long-term care system as well as of labour market policies, I consider how recent reforms have effected the financial sustainability of these systems, what kind of distributive effects they cause and how they reshape the public-private benefit mix.
Japan in Comparative Social Policy
For many years there has been a lively theoretical and empirical debate in the field of comparative social policy as to whether globalisation leads to convergent developments of social policies in different countries, and to what extent country-specific factors might prevent such a convergence. Comparative social policy has also received considerable impetus from the increasing literature on welfare-regime types, where qualitative, rather than quantitative, arrangements between state, market and the family have been the focus of research. With my analysis of Japanese social security arrangements and changes I hope to clarify Japan's position within the existing theoretical concepts of comparative social policy.
The "Silver Market" in Japan
For many years, the rapid aging of the Japanese population has been regarded solely as a negative factor for the future development of the country. Recently, however, there has been a slow, but consistent change of perceptions. Policy makers and managers are increasingly aware of the economic opportunities connected with an aging population. Today, many Japanese companies are developing products and strategies to open up the senior citizen or so-called "silver" market to profit from the demographic shift. In my research, I focus on areas of action, strategies and best practices of Japanese companies in this market segment. Furthermore, I aim to identify and analyse general conditions, such as regulations or bureaucratic involvement, which foster the development of the Japanese "silver market". Generalizing the findings, I hope to develop a model, which outlines managerial and public policy requirements for successful "silver market" strategies.
Economic Aspects of Demographic Aging
Japan is the industrialized country with fastest aging population in the world. For this reason, the country is an ideal object for  study of the long-term impact of demographic changes. My analysis concentrates predominantly on following topics:
What are the effects of population aging on financial markets and capital-funded old-age provisions in Japan?
What challenges does the demographic shift pose for infrastructure policies and the housing market?
How are labour markets and the employment system affected?
What is the influence on the capacity for innovation and the competitiveness of companies?
Changes in the Japanese Employment System
The Japanese employment system is characterized by several distinct practices like lifetime employment (for the core male labour force), non-specialist career paths, small pay differentials, company unions and participative leadership. Studies, which highlight the relationship between human resource management and corporate performance, have shown that several of these practices have positively influenced corporate outcomes. On the other hand, the rapid aging of the Japanese labour force creates a major problem, because it translates automatically into an increase of labour costs via the typical remuneration practices. My analysis focuses on the question of how these employment practices change. Is there a move towards more market-based practices such as external labour markets and performance-linked remuneration? Which features of the "old" regime are maintained and are there new distinct Japanese-style employment practices evolving?
Current DIJ Projects
Completed DIJ Projects
Wandel der Entlohnungspraktiken japanischer Großunternehmen bei alternden Belegschaftsstrukturen
Jüngste Arbeitsmarktreformen in Deutschland – Mögliche Lehren für Japan
Competitiveness of Japan's Economy for the Future