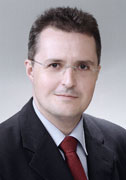 Harald Conrad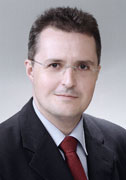 Economics/ Social Science: Social Policy
Since July 2000
(Senior Research Fellows, July 1, 2000 - March 31, 2007)
Social Security System and Labour Market
As is the case in many other industrialized countries, Japan is currently seeking a new paradigm in its social security arrangements. Against the background of a rapid globalisation the social security system as well as the labour market have been undergoing significant changes. In my predominantly economic analysis of the pension, health care and long-term care system as well as of labour market policies, I consider how recent reforms have effected the financial sustainability of these systems, what kind of distributive effects they cause and how they reshape the public-private benefit mix.
Japan in Comparative Social Policy
For many years there has been a lively theoretical and empirical debate in the field of comparative social policy as to whether globalisation leads to convergent developments of social policies in different countries, and to what extent country-specific factors might prevent such a convergence. Comparative social policy has also received considerable impetus from the increasing literature on welfare-regime types, where qualitative, rather than quantitative, arrangements between state, market and the family have been the focus of research. With my analysis of Japanese social security arrangements and changes I hope to clarify Japan's position within the existing theoretical concepts of comparative social policy.
The "Silver Market" in Japan
For many years, the rapid aging of the Japanese population has been regarded solely as a negative factor for the future development of the country. Recently, however, there has been a slow, but consistent change of perceptions. Policy makers and managers are increasingly aware of the economic opportunities connected with an aging population. Today, many Japanese companies are developing products and strategies to open up the senior citizen or so-called "silver" market to profit from the demographic shift. In my research, I focus on areas of action, strategies and best practices of Japanese companies in this market segment. Furthermore, I aim to identify and analyse general conditions, such as regulations or bureaucratic involvement, which foster the development of the Japanese "silver market". Generalizing the findings, I hope to develop a model, which outlines managerial and public policy requirements for successful "silver market" strategies.
Economic Aspects of Demographic Aging
Japan is the industrialized country with fastest aging population in the world. For this reason, the country is an ideal object for  study of the long-term impact of demographic changes. My analysis concentrates predominantly on following topics:
What are the effects of population aging on financial markets and capital-funded old-age provisions in Japan?
What challenges does the demographic shift pose for infrastructure policies and the housing market?
How are labour markets and the employment system affected?
What is the influence on the capacity for innovation and the competitiveness of companies?
Changes in the Japanese Employment System
The Japanese employment system is characterized by several distinct practices like lifetime employment (for the core male labour force), non-specialist career paths, small pay differentials, company unions and participative leadership. Studies, which highlight the relationship between human resource management and corporate performance, have shown that several of these practices have positively influenced corporate outcomes. On the other hand, the rapid aging of the Japanese labour force creates a major problem, because it translates automatically into an increase of labour costs via the typical remuneration practices. My analysis focuses on the question of how these employment practices change. Is there a move towards more market-based practices such as external labour markets and performance-linked remuneration? Which features of the "old" regime are maintained and are there new distinct Japanese-style employment practices evolving?
DIJ Projects
Completed DIJ Projects
Wandel der Entlohnungspraktiken japanischer Großunternehmen bei alternden Belegschaftsstrukturen
Jüngste Arbeitsmarktreformen in Deutschland – Mögliche Lehren für Japan
Competitiveness of Japan's Economy for the Future
Challenges of Demographic Change
Selected Publications
Articles
2009
Die Beschäftigung älterer Menschen in Japan – Ursachen und Rahmenbedingungen einer hohen Alterserwerbsquote
In: Nova Acta Leopoldina NF 101, No. 365. pp. 111-142.
2008
Human Resource Management Practices and the Ageing Workforce
In: Schad-Seifert, Annette; Conrad, Harald; Vogt, Gabriele; Coulmas, Florian (Ed.)
The Demographic Challenge: A Handbook about Japan.
DIJ Publications. Leiden, Boston: Brill. pp. 979-997.
2006
Doitsu ni okeru rōdōshijō kaikaku no mondaiten [Die Probleme jüngster Arbeitsmarktreformen in Deutschland]
In: Rōdō Seisaku Kenkyū Kenshū Kikō (Japanese Institute for Labour Policy and Training) (Ed.) Doitsu ni okeru rōdō shijō kaikaku – sono hyōka to tenbō. Rōdō Seisaku Kenkyū Hōkokusho No. 69. 63-73 pp..
2006
[With: Heindorf, Viktoria] Recent changes in compensation practices of large Japanese companies: wages, bonuses and corporate pensions
In: Lunsing, Wim; Matanle, Peter (Ed.) Perspectives on Work, Employment, and Society in Contemporary Japan. Houndmills/New York: Palgrave Macmillan. 79-97 pp..
2006
The Social Security Systems in Germany and Japan: Structural Similarities, Common Challenges, and Future Prospects
In: Fujiwara, Atsuyoshi (Ed.) Church and State in Japan since World War II. (Monograph Series: A Theology of Japan Vol. 2). Tokyo: Seigakuin University Press. pp. 67-74.
2005
近年のドイツにおける企業年金制度の展開 (Recent developments in German corporate pensions)
In: 海外社会保障研究 (The Review of Comparative Social Security Research). No. 151 (Summer 2005). pp. 98-109.
2005
[With: Arimori, Miki] ドイツの年金改革 (Recent pension reforms in Germany)
In: Seike, Atsushi; Fukawa, Tetsuo (Ed.) 先進5カ国の年金改革と日本 (Pension reforms in 5 industrialized countries and Japan). Tokyo: Maruzen Puranetto. p. 41-65.
2004
Recent and Planned Reforms of the Public Pension and Long-term Care Insurance in Germany – Possible Lessons for Korea?
In: Korea Institute for Health and Social Affairs (Ed.) Conference Proceedings of the "International Symposium on Pension and Long-term Care – Lessons, Implications and Next Steps", Seoul 25.11.2004. Seoul: p. 165-195.
2003
Sustaining Old Age Security in Japan – Toward a New Public-Private Pension Mix
In: Zeitschrift für Japanisches Recht, Vol. 8, Heft 15. p. 199-230.
2003
Gibt es einen Paradigmenwechsel in der jüngeren japanischen Sozialpolitik? Reformen, Wirkungen, Hemnisse
In: Pohl, Manfred; Wieczorek, Iris (Ed.) Japan 2003 Politik und Wirtschaft. Hamburg: Institut für Asienkunde. s.75-97.
2003
Sozialversicherungsrechtliche Aspekte der Personalpolitik in Japan
In: Dorow, Wolfgang; Groenewald, Horst (Ed.) Personalwirtschaftlicher Wandel in Japan – Gesellschaftlicher Wertewandel und Folgen für die Unternehmenskultur und Mitarbeiterführung. Wiesbaden: Gabler Verlag. p.269-284.
2002
ドイツにおける2000年年金改革の現状と課題 (The 2000 Pension Reform in Germany: An Overview)
In: アクチュアリージャ-ナル (Actuary Journal). 2002年9月, Vol. 13. p.40–52.
2002
[With: Arimori, Miki] 先進国における社会保障年金への確定拠出個人勘定導入について-ドイツの場合 (The Introduction of Individual Retirement Accounts in Developed Countries: The Case of Germany)
In: 年金レビュー(Pension Review) 2002年7月号 (July). p. 3–18.
2002
Jüngste Rentenreformen in Japan – Zur Neubestimmung des Verhältnisses von öffentlicher und privater Alterssicherung
In: Zeitschrift für ausländisches und internationales Arbeits- und Sozialrecht, 2/2002. p. 97-119.
2001
Perspektiven der Alterssicherung in Japan
In: Japan-Zentrum der Ludwig-Maximilians-Universität München (Ed.) Japan Analysen und Prognosen, Nr. 183. 30 p..
Other Articles
2004
[With: Gerling, Vera]
Seniorenmarketing in Japan
In: Japan Markt, September 2004. Tokyo: Deutsche Industrie- und Handelskammer in Japan. p. 9-11.
2002
Die Pflegeversicherung in Japan: Ein Überblick
In: Forschungsgesellschaft für Gerontologie e.V., Institut für Gerontologie an der Universität Dortmund (Ed.) Impulse. November 2002, Nr. 4. p.2-4.
2002
[With: Gerling, Vera] Der Silbermarkt in Japan
In: Forschungsgesellschaft für Gerontologie e.V., Institut für Gerontologie an der Universität Dortmund (Ed.) Impulse. November 2002, Nr. 4. p.1–2.
1998
Zum gegenwärtigen Stand der Rentendiskussion in Japan
In: Deutsche Industrie- und Handelskammer in Japan (Ed.) Japan Markt, November 1998. Tokyo: S. 18-19.
Presentations
January 12, 2004
Die 1990er Jahre: Japans verlorenes Jahrzehnt?. Die japanische Automobilindustrie – Strategische Herausforderungen und neue Perspektiven.
September 10, 2002 - September 11, 2002
Curriculum Vitae
December 2000
Erhardt Imelmann Award of the University of Cologne
Since July 2000,
Research fellow at the German Institute for Japanese Studies; Senior Lecturer at Rheinische Friedrich-Wilhelm-Universität Bonn and Ludwig-Maximilians-Universität München
February 2000
University of Cologne awarded a doctoral degree in economics for his thesis "Reforms and Areas of Special Problems in the Public Pension System in Japan".
1998
Received a three-month scholarship from the German Institute for Japanese Studies
1996 – 1998
Monbushō scholar at Keiō University in Tōkyō
1996 – 2000
Ph.D. candidate at the Seminar for Public Sector Economics at the University of Cologne
1994 – 1995
DAAD (German Academic Exchange Service) scholarship at Hitotsubashi University in Tōkyō
1991 - 1996
Studied economics at the University of Cologne
1988 -1991
Apprenticeship in the book retail business in Aachen and attended the German Booksellers School in Frankfurt