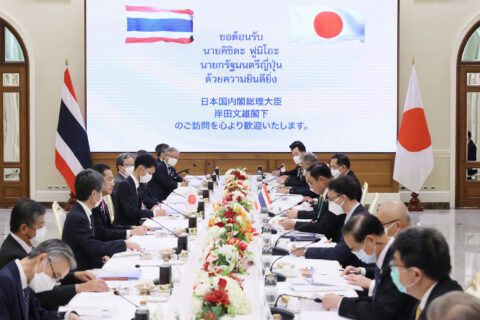 登録情報
This is a past event. Registration is no longer possible.
DIJ Mailing List
Please subscribe below to stay informed about our research activities, events & publications:
Japanese-Thai Defense Relations in the Indo-Pacific Era
2023年2月20日
Building on the defense reforms implemented since former Prime Minister Shinzo Abe's reelection in 2012, the Japanese government announced in December 2022 major changes to its defense policies. Of course, the US-Japanese Alliance is the cornerstone of Japanese security in the new National Security Strategy and for the realization of the foreign policy concept of a Free and Open Indo-Pacific. But the document also explicitly stresses the importance of bilateral and multilateral cooperation with "like-minded countries".
Situated in the heart of the Indo-Pacific at the confluence of the Indian and Pacific Oceans, Southeast Asia and the Association of Southeast Asian Nations (ASEAN) play central roles for achieving Japanese foreign policy and security goals. This is acknowledged through Japan's Defense Cooperation Initiative with ASEAN, the so-called Vientiane Vision, initially announced in 2016 and updated in 2019. Security cooperation between Japan and ASEAN is complemented by bilateral agreements and consultations between Japan and individual member states.
As a founding member of ASEAN enjoying long and close relations with Japan, but also with the People's Republic of China, and the United States, Thailand offers an interesting case study of Japan's defense diplomacy in the region. As a kingdom that was never formally colonized, Thailand, formerly Siam, established diplomatic relations with Japan already in 1887. Defense relations accordingly go back as far as the last decade of the nineteenth century and both countries were allies during World War II. Postwar defense relations have been muted but restarted as early as 1958 with the first Thai student arriving at Japan's National Defense Academy. Since the end of the Cold War, Japan has intensified its collaboration with Southeast Asian countries to promote human security. Since 2005, Japan has been participating in the annual US-Thai hosted multinational military exercises Cobra Gold. At the same time, Thailand has also strengthened its defense relationship with China, especially after the 2014 coup and the subsequent downgrading of the long-standing US-Thai relations. Nevertheless, a bilateral agreement concerning the transfer of defense equipment and technology was signed in May 2022 during Prime Minister Fumio Kishida's first visit to Thailand.
This online roundtable explored Japanese-Thai defense relations in the light of Japan's new National Security Strategy, of the Japanese-Thai bilateral agreement of May 2022, and of the closer relations between Thailand and the People's Republic of China from Japanese and Thai perspectives.
Saya Kiba, Associate Professor at Kobe City University of Foreign Studies, visiting scholar at the National Defense Academy of Japan, and member of the Japanese Ministry of Foreign Affairs' Expert Panel for the 50th Year of ASEAN-Japan Friendship and Cooperation.
Kitti Prasirtsuk, Professor at Thammasat University, Bangkok, former Director of the Institute of East Asian Studies, Thammasat University, and regular lecturer at the Thai National Defense College and the Air Force Academy
Moderator:
David M. Malitz, Senior Research Fellow at the German Institute for Japanese Studies, Tokyo