場所
Deutsches Institut für Japanstudien
Nissei Kōjimachi Bldg. 2F
3-3-6 Kudan-Minami, Chiyoda-ku, Tokyo 102-0074
Tel: 03 – 3222 5198, Fax: 03 – 3222 5420
e-mail: dijtokyo@dijtokyo.org
アクセス
登録情報
The forum will be in English. It will take place on tuesday, April 22nd, 2003 at 6.30 p.m. at the DIJ. Admission is free, but please register by April 17th with the DIJ.
The Japanese Sencha Tea Ceremony: History, Aesthetics and Accoutrements
2003年4月22日 / 6.30 P.M.
Patricia J. Graham (PhD, University of Kansas)
 The Japanese tea ceremony of chanoyu, with its wabicha aesthetics and bowls of powdered green tea, is well-known worldwide, but few people understand the traditions and aesthetics of another uniquely Japanese tea ceremony for sencha, or its pervasive influences on Japanese culture. This talk will introduce the history, aesthetics, and accoutrements of the sencha tea ceremony, a ritualized form of tea preparation that is still practiced nationwide in Japan today Sencha features green tea in leaf form, steeped in a pot of freshly boiled water and served in tiny teacups, with room accessories and accoutrements in elegant Chinese taste. It originally appealed to very different kinds of people than those who practiced chanoyu, and it possessed its own guiding aesthetic principles. The first sencha followers in the eighteenth century were sinophile scholars who admired the Chinese literati and promoted their activities as appropriate accompaniments to sencha drinking. By the early nineteenth century, interest in sencha had spread to a wide spectrum of the populace, who had become enamored with all things Chinese. Its popularity encouraged the emergence of various Japanese handicraft industries that continue to flourish today, and the appreciation and collecting of later Chinese arts in literati taste by prominent industrialists of the Meiji period and later.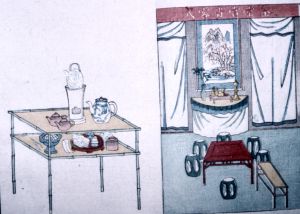 Patricia J. Graham (PhD, University of Kansas, 1983) directs the Japan section of the Kansas Asia Scholars Program, Center for East Asian Studies, University of Kansas, and serves as an independent appraiser of Asian art. She taught at Cornell University and Hobart & William Smith Colleges, and worked in the curatorial departments of the Saint Louis Art Museum the Nelson-Atkins Museum of Art. Recent publications include
Tea of the Sages: the Art of Sencha
(1998) and "
Early Modern Japanese Art History: An Overview of the State of the Field
,"
Early Modern Japan: An Interdisciplinary Journal
(Fall 2002). Her current research on Japanese Buddhist art and architecture of the seventeenth through twentieth centuries is supported by a grant from the National Endowment for the Humanities.