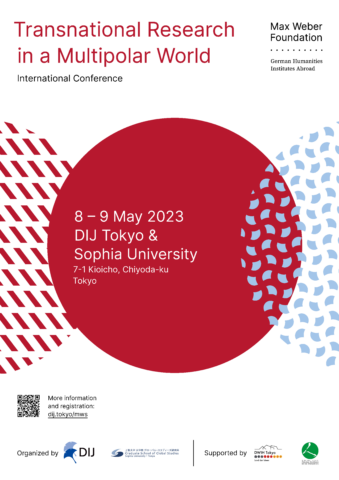 ダウンロード
場所
Sophia University (Yotsuya Campus), Building 2, Floor 17
DIJ Tokyo (access) [parallel session 'Indo-Pacific' only]
登録情報
This is a past event. Registration is no longer possible.
DIJ Mailing List
Please subscribe below to stay informed about our research activities, events & publications:
Transnational Research in a Multipolar World
International Conference of the Max Weber Foundation
2023年5月8日 - 2023年5月9日

International Conference of the Max Weber Foundation
organized by the
German Institute for Japanese Studies (DIJ)
and Sophia University Graduate School of Global Studies (GSGS)
supported by the
German Centre for Research and Innovation Tokyo (DWIH Tokyo)
 and the National Institutes for the Humanities (NIHU)
A video of the keynote lecture is available on the DIJ's YouTube channel here
Transnational research plays an essential role in global knowledge production. It also fosters mutual understanding and trust among the countries involved. This is especially true for transnational research in the social sciences and humanities, which explicitly aims at bridging and combining different national perspectives on issues of shared interest.
The conference "Transnational Research in a Multipolar World" discussed the impact of the growing geopolitical tensions on transnational research with a particular focus on "closing spaces", i.e. the limitations to free scientific research in autocratic regimes. It also looked at how national research organizations and universities have responded to these challenges. Taking the example of gerontology and gender studies, it explored how research in the humanities and social sciences responds to societal challenges and how research, in turn, feeds back into society.
The second day of the conference looked at research on and in specific regions – Eastern Europe, the Middle East, and the Indo-Pacific. Taking into account geopolitical shifts, it explored common topics as well as new venues and formats of transnational research. The conference ended with a keynote speech on world history made in Japan, a field that has increasingly drawn public attention against the background of global history research and history activism in a multipolar world.
Outline
1日目 2023年5月8日 (月)
14:00
Welcome and introduction
Yoshiaki Terumichi (President, Sophia University)
Franz Waldenberger (Director, DIJ Tokyo)
14:15
Coping with international conflict and restrictions of academic freedom
Moderation:
Miloš Řezník (Director, German Historical Institute Warsaw)
Ute Frevert (President, Max Weber Foundation)
Verena Blechinger-Talcott (Vice-President, Free University Berlin)
Osamu Kobayashi (Director, Department of International Affairs, Japan Science and Technology Agency) PDF
Shigeto Sonoda (Professor, University of Tokyo)
15:45
Coffee break
16:15
Gender issues in historical and comparative perspective
Moderation:
Christoph K. Neumann (Director, Orient Institute Istanbul)
Demographic change – a gendered perspective
Christina von Hodenberg
(Director, German Historical Institute London)
解題を隠します
In Britain and the Federal Republic of Germany, the 1950s to 1970s were foundational decades for new social science sub-disciplines such as empirical sociology, gerontology, and oral history. Pioneering studies of ageing and the elderly were undertaken, and the earlier fixation of the social sciences on the study of youth was successfully challenged. But the pioneers of the new science of ageing, who became rightly famous for establishing new methods and asking new questions, were also a product of their times. They generally treated the ageing process in terms of the male life course and defined women (who were the majority of the elderly) as a group deviating from the norm. They also relied on concepts of family and marriage which obscured the way in which gender and gender regimes shaped the lives of the elderly. As a consequence, much about the social situation and the attitudes of over 60-year-old women in the second half of the 20th century remains unknown.
As a historian, I explore how old women navigated the gender regimes of their time by relying on a historical re-reanalysis of social science-generated sources, both quantitative and qualitative, from the 1950s to roughly 1980. In this paper, I will focus on the ways in which British as well as West German social scientists approached and treated their subjects of study, and the role gender played in their work.
解題を開きます
The baby and the sword: contradiction in gender role ideologies in Japan
Keiko Hirao
(Professor, Shirayuri University)
解題を隠します
Japanese society has undergone significant changes in gender relations over the past few decades. However, there still is persistent gender inequality, especially in the workplace and political representations. Today, women in Japan face inconsistent and often contradictory expectations regarding education, career, marriage, domestic work, and child care. In my presentation, I will discuss what has changed and has not changed in gender role ideologies by analyzing how women are portrayed in commercial films from 2000 to 2021.
解題を開きます
17:45
Closing remarks
Simone Lässig (Director, German Historical Institute Washington)
2日目 2023年5月9日 (火)
9:00
Regions in focus (parallel sessions)
12:00
Lunch break
14:00
Reports from the morning sessions
Moderation:
Andreas Eckert (Professor, Humboldt University Berlin)
Sandra Dahlke (Director, German Historical Institute Moscow)
Claudia Derichs (Professor, Humboldt University Berlin)
Sebastian Schwecke (Director, Max Weber Forum for South Asian Studies, Delhi)
15:30
Coffee break
16:00
Keynote lecture
Moderation:
Torsten Weber (Principal Researcher, DIJ Tokyo)
World history made in Japan
Kaoru Iokibe (Professor, University of Tokyo)
Comment: Martin Baumeister (Director, German Historical Institute Rome)
Watch the video on the DIJ's YouTube channel here
解題を隠します
The first and primary focus of this talk is the changes of predominant trends in postwar Japanese historiography, driven by remorse from the war and the search for the origin of democracy, coupled with the intrinsic development of research. The talk then proceeds to showcase an achievement from the recent trend of historiography, namely a new understanding of Japan's entry to the western oriented international society. It reveals an important aspect of the world of the 19th century, and in this sense represents "World History" made in Japan.
解題を開きます
17:30
Closing remarks
Sven Saaler (Professor, Sophia University)
18:00
Dinner reception at Hotel New Otani