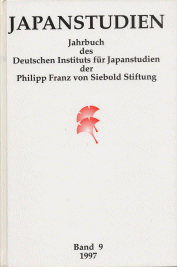 細部
1997, ISBN 3-89129-372-0, € 52,00, iudicium Verlag, Munich, 405 pp., hardcover
[オーダー]
著者
ハラルト・フース
ヘンドリック・マイヤー=オーレ
Japanstudien 9
Dienstleistung und Konsum in den 1990er Jahren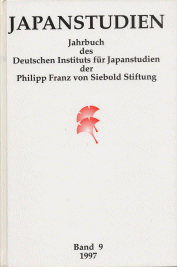 Volume 9 of  "Japanstudien" focuses on "Consumer and service in the 1990s". Eight articles contribute to this specific theme. They deal with subjects such as the significance and organization of service industries, spatial aspects of service activities, personnel management, consumer movement, advertising, consumption and social relations, museums, and department store architecture.
These articles are complemented by four additional contributions dealing with different topics. In one of them, German-Japanese relations are taken up in the context of cooperation in space. Contributions concerning Okinawa and the public debate on separate spousal surnames relate to recent issues of Japanese politics and society. Another article is about textbooks for womens's education in the late Edo period.
Nine book reviews evaluate recently published books in the areas of literature, history and economics.
コンテンツ