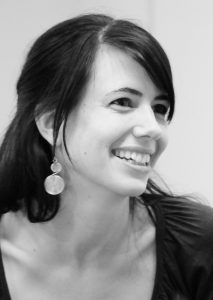 ゾニャ・ガンゼフォルト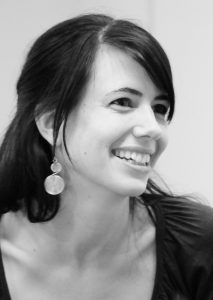 ライプチッヒ大学とDFG大学院「Critical Junctures of Globalization」にて、中東における日本の経済協力をテーマとして博士号を取得。修士号取得においては、ライプツィヒ大学、立命館大学、ダマスカス大学にてアラブ学、日本学、外国語としてのドイツ語を修める。主な研究分野は、農漁業・食品システムのグローバル化、漁村の生活(livelihoods)、海洋領土、天然資源の財産権、食品のPolitical Ecology等の社会経済的地理課題である。 DIJでは世界的な変化の中の日本の漁業に関する研究を行う。
DIJプロジェクト
日本の「ブルー・エコノミーズ」? 世界の水産物貿易の再編と日本企業
日本の地方自治体の将来は? 多様な課題がもたらすリスクとチャンス
主要著作
記事・論文
2015
Fisch in Japan. Machtverschiebungen im Fischereisektor, Revitalisierungsstrategien und nationale Konsumdiskurse.[Fish in Japan – Power Shifts in the Fisheries Sector, Rural Revitalization and National Discourses of Consumption.]
In: Sippel, Sarah u. Reiher, Cornelia (編) Umkämpftes Essen: Produktion, Handel und Konsum von Lebensmitteln in globalen Kontexten. [Contested Food – Production, Trade and Consumption of Food in Global Contexts.]. Göttingen: Vandenhoeck & Ruprecht. pp. 227 - 246.
2014
[共著者: Jörg Gertel und Rachid Ouaissa] Jugend in der Arabischen Welt. [Youth in the Arab World.]
In: Gertel, Jörg u. Rachid Ouaissa (編) Jugendbewegungen. Städtischer Widerstand und Umbrüche in der arabischen Welt. [Youth Movements. Urban Resistance and Upheaval in the Arab World.]. Bielefeld: transcript. pp. 12 - 29.
2012
Contested Palestinian Spaces amidst Regional Upheavals.
In: Gertel, Jörg u. Amira Augustin (編) Conference Reader. Realigning Power Geometries in the Arab World. Leipzig: Orientalisches Institut. pp. 200 - 202.
2011
Japanese Fish Markets, Chinese Seafood Palaces and Global Sushi: Meeting Theodore C. Bestor.
In: International Journal of Sociology of Agriculture and Food 18 (2). pp. 149 - 161.
2011
Ressourcenkonflikte in der Fischerei. [Resource Conflicts in Fisheries.]
In: Geographische Rundschau [Geographic Review] 7‑8. pp. 60 - 62.
2010
Arturo Escobar.
In: Middell, Matthias und Ulf Engel (編) Theoretiker der Globalisierung. [Key Thinkers of Globalization]. Leipzig: Leipziger Universitätsverlag. pp. 165 - 178.
発表
2018年1月26日
Lebewesen, Nahrungsmittel oder kulturelles Konsumprodukt? Fisch in japanischen Revitalisierungsprogrammen. Neue Kulturgeographie XV, Freiburg.
2017年12月10日
Fishing for Culture? Re-Educating Fishers as Self-Marketing Entrepreneurs. AJJ Fall Meeting 2017, Doshisha University, Kyoto.
2017年11月2日
Institutional Change in Japan's Peripheries. Rural Areas between Decentralization, Deregulation, and Dependency. (Panel Chair). VSJF 2017 Annual Conference, University of Vienna.
2017年9月1日
Survival at the Margins. Precarious Livelihoods in Rural Japanese Fishing Communities. 15th EAJS Conference, Universidade NOVA, Lisbon.
2015年9月3日
From Animal to Functional Food. Converting Fish into High-tech Commoditites. 26th Conference of the Japan Anthropology Workshop (JAWS) 2015, "Technology and Nature", Istanbul.
2015年8月26日
Die alten Männer und das Meer. Krisenbewältigungsstrategien in der japanischen Fischerei. 16. Deutschsprachiger Japanologentag, München.
2015年5月8日
Japanese Seafood Companies as Portals of Globalization. Critical Junctures of Globalization, Final Conference, 7. - 9. Mai 2015, Leipzig.
2014年12月2日
Die Frage von sozialer Nachhaltigkeit in der japanischen Küstenfischerei. 100 Jahre Ostasiatisches Institut an der Universität Leipzig, Fachtagung und Jubiläumsfeier, Leipzig.
2014年11月25日
Social Sustainability in Japanese Fishing Communities. Agrifood XXI, Sydney.
2014年9月26日
Raumbesetzungen in einem japanischen Entwicklungsprojekt in Palästina. 21. DAVO-Kongress, Köln.
2014年8月27日
Asian Peacemakers? Positioning Japan in the Middle East. 14. Internationale EAJS-Konferenz, Ljubljana.
2014年1月30日
Neoliberal Development Politics in Palestine. International Seminar on Corporate Jurisprudence. State over Commerce or Commerce over State? Amity University, Lucknow, Indien.
2012年6月7日
From Anti-imperialist Peer to Neo-colonial Power? Japan's Role in West Asia. Inter-Asian Connections III, Hong Kong.
2012年3月20日
Regional Upheavals, Contested Spaces and Japanese Development Projects in Palestine. Middle East Research Competition, Tunis.
2011年11月29日
Der 'Arabische Frühling' – eine regionale Krise? Akteure, Ursachen und Perspektiven aktueller Umbrüche zwischen Casablanca und Damaskus. Leipzig (Co-Organisation des Symposiums).
2011年8月25日
Contested Spaces in the Japanese Fishing Sector. 13. Internationale EAJS-Konferenz, Tallinn.
2010年9月23日
Fishy Issues. Normenkonformität und Divergenz in der internationalen Fischerei. VIII. Internationale Sommerschule "Transnational Actors – Actors of Transnationalisation", Leipzig.
2009年9月30日
Fishery Communities in Changing Contexts of Ecology, Regulation and Privatization. VII. Internationale Sommerschule "Memory Culture in Transcultural and Transnational Perspective", 28. September – 1. Oktober 2009, Leipzig.
2009年5月6日
Bruchzonen in der Aushandlung maritimer Territorialität und Eigentumsrechte. DFG-Vernetzungstreffen "Kulturkontakt? Potential und Grenzen eines Begriffs", Warnemünde/Rostock.
略歴
2014年1月〜2015年10月
Research fellow at the East Asian Institute, Japanese Studies, University of Leipzig
2014年1月〜2014年3月
Research Affiliate at Jawaharlal Nehru University, New Delhi, India
2013年9月〜2013年12月
Research assistant at the Oriental Institute, University of Leipzig
2009年4月〜2013年11月
Doctoral studies, DFG graduate school "Critical Junctures of Globalization" at the University of Leipzig
2010年10月〜2012年3月
Research fellow at the Centre for Area Studies, University of Leipzig
2009年2月
Master's degree at the University of Leipzig (Arab Studies, Japanese Studies and German as a Foreign Language)
2006年2月〜2006年8月
Semester abroad, University of Damascus, Syria
2005年4月〜2006年2月
Study in Kyōto Program at Ritsumeikan University in Kyōto, DAAD scholarship