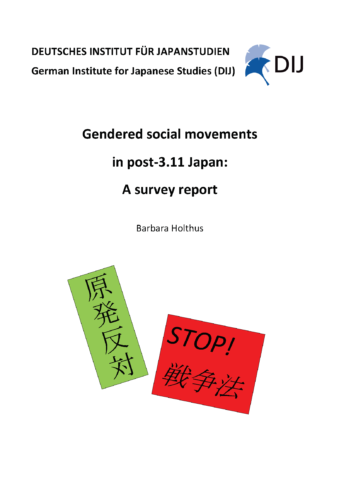 ダウンロード
Gendered social movements in post-3.11 Japan: A survey report
細部
2021, Tokyo, 47 pp.
著者
Gendered social movements in post-3.11 Japan: A survey report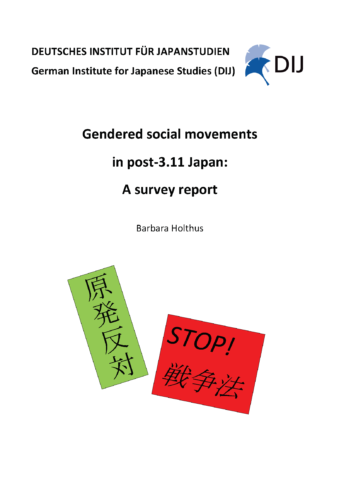 The Great East Japan Earthquake hit Japan on March 11, 2011, causing the triple disaster of earthquake, tsunami, and nuclear meltdown of the Fukushima Daiichi nuclear plant. These events resulted in more than 17,000 people missing or dead, thousands injured, and tens of thousands displaced from their homes and quickly triggered anti-nuclear protests throughout the country, though primarily centered in the capital Tokyo. Mobilization of social movement groups and their protests peaked in July 2012, and their numbers declined rapidly thereafter. In 2015, Japan saw a second peak in mobilization numbers, this time in response to the Diet passing the National Security Act legislation. This legislation is seen by many as an effort by the Abe government to pave the way for changing Japan's constitution, namely Article 9, which prohibits Japan from building first-strike military capabilities. The new security legislation allows Japan's military, called the Self-Defense Forces, to engage overseas. Together, these issues of contention, along with issues which have resulted in protests since 2011, most recently smaller-scale anti-Olympic protests (Ganseforth 2020), mark the largest protest wave Japan has seen since the 1970s, an era in which Japan experienced the almost complete absence of social protests and would witness the invisibility of civil society for decades (Steinhoff 2017).
A significant amount of research on the resurgence of social movement activities since 2011 has been conducted, yet the majority of that research has been qualitative, small-scale studies. Therefore, a Grants-in-Aid for Scientific Research (KAKENHI #17H01005) project, a Japanese nationally funded research project headed by principal investigator Naoto Higuchi (formerly of Tokushima University, now Waseda University), enabled a large-scale survey undertaken in December 2017. Close to 80,000 Japanese in the larger Tokyo metropolitan area were surveyed. Questions focus on understanding who was sympathetic to the 3.11 movement, who was mobilized, who participated in the protests, and most importantly their reasons. The goal was to understand what distinguishes the participants from the non-participants and to understand the role values and political views play in this.
The research team under the leadership of Naoto Higuchi consists of Mitsuru Matsutani (Chukyo University), Keiichi Satoh (University of Helsinki), Hiroshi Ohata (Meiji University), Kikuko Nagayoshi (Tohoku University), Shun Harada (Kinjo Gakuin University), and Barbara Holthus (author). First findings of the team were jointly presented on January 27, 2019 at a symposium entitled "Social Movements in Post-3.11 Japan" at Sophia University. An edited volume in Japanese was published in June 2020. This survey report is the first English-language publication to present an overview of the data.
Here, in order to structure the findings, this survey report uses gender as the main but not sole control variable. In general, studies on issues of gender regarding social movement mobilization and participation point to issues of biographical availability, of gendered concern for certain social issues, of different ways of entry into social movements, and gendered roles within movements. Yet how this plays out in the post-3.11 social movements in Japan has to date not been studied in detail through a quantitative approach.
The analysis uses univariate, bivariate, and multivariate statistical tests. As a service to the academic community, this survey report also features the full-length English translation of the questionnaire in its appendix. The raw data will be made available to the public through the data archive of the University of Tokyo (SSJDA) by 2022.