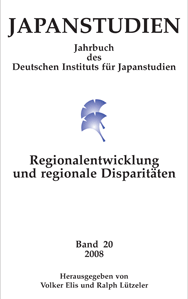 細部
2008, iudicium Verlag, München, 344 p.
[注文]
Japanstudien 20
Regionalentwicklung und regionale Disparitäten (Regional Development and Regional Disparities)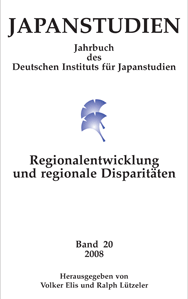 For years, the discourse on Japan's regional structure has been dominated by the hyper-concentration of economic, cultural, political and societal functions on the Tokyo metropolis and the corresponding relative insignificance of all other regions. Recently, however, new developments have become apparent which might lead to a more diversified regional structure. These developments are:


political decentralization and the amalgamation of municipalities as an instrument to cut administrative expenditures. This might save some municipalities from bankruptcy, but could also lead to oversized administrations out of touch with their citizens;

a paradigm change in regional planning: the State abandons its task of mitigating regional disparities and calls upon the direct responsibility of each commune and prefecture instead;

a deepening gap between shrinking and growing regions. For overcrowded areas, though, the shrinking process might also offer new opportunities;

the undocking of specific urban quarters in Tokyo or in the Kansai region from the rest of their city region as a result of efforts to compete with top locations of other world metropoles.
Overall, these developments might lead to an even stronger association between place and living conditions in Japan. Furthermore, not only rural regions, but a significant number of cities as well will have to cope with population losses, which is almost the opposite of the well-known problems linked to overcrowding that have been charcterizing large parts of urban Japan up to now. Japanstudien 20 intends to deal with these new trends from various perspectives and disciplines, including demographics, geography, sociology, political science, economics, jurisprudence and cultural studies.
コンテンツ
DIJプロジェクト