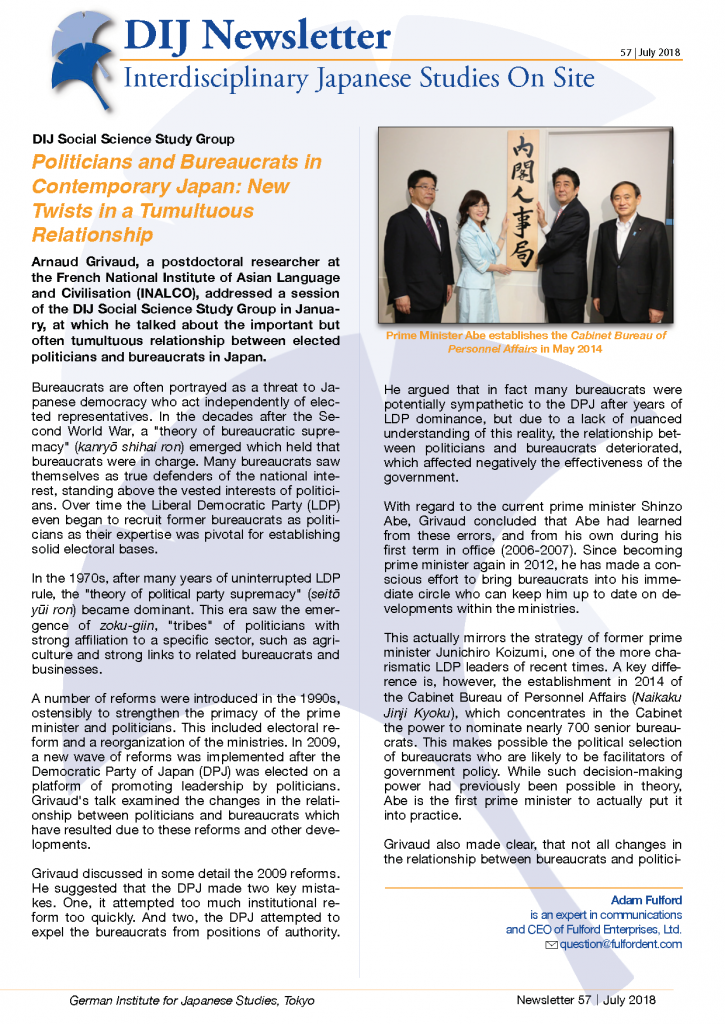 DIJ Newsletter 57 is out now! This issue features the following topics:
DIJ Social Science Study Group: Politicians and Bureaucrats in Contemporary Japan: New Twists in a Tumultuous Relationship
Arnaud Grivaud, a postdoctoral researcher at the French National Institute of Asian Language and Civilisation (INALCO), addressed a session of the DIJ Social Science Study Group in January, at which he talked about the important but often tumultuous relationship between elected politicians and bureaucrats in Japan.
China, Japan, and the Contest for 'Asia'
China's recent rediscovery of the Silk Road reaffirms the country's claim to being acknowledged once again in its role as the 'Central Kingdom'. Its ambition is global but at its core is China's position in Asia.
(Re)Locating the Tsukiji Central Wholesale Market
Located in the heart of Tokyo, the Tsukiji Wholesale Market is the world's largest seafood market with annual sales of 428 billion yen in 2017. It is most famous for its tuna auctions setting the world market prices, but in addition to seafood, there is also trade in vegetables, fruit, eggs, chicken and processed foods. The market was founded in the Edo period and stands in its present location since 1935. After decades of political contestation, it is now scheduled to relocate to a modern construction in Toyosu in October.
Inbound Tourism – Japan's new growth market
Since 2012, Japan has been experiencing a veritable tourist boom. More than 28 million residents from abroad visited the country in 2017, four times as many as in 2011.