Events and Activities
Publications
March 30, 2020
New publication on rural Japan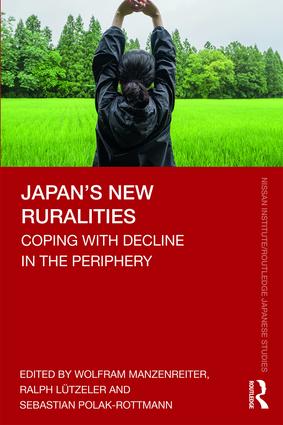 Several DIJ researchers, alumni, and affiliates have contributed to this new publication on political innovations, transformations, and new residents in rural Japan. Sonja Ganseforth examines the decline and diversification in Saga Genkai coastal fisheries, Daniel Kremers (with Thomas Feldhoff) looks at Japan's energy transformation and its potential for the remaking of rural communities, Susanne Brucksch studies the introduction of telehealth networks in Japan's regions, and Hanno Jentzsch analyzes the promotion of wine tourism in Yamanashi. Their research is part of the DIJ's research focus on The Future of Local Communities in Japan.
The volume is co-edited by Wolfram Manzenreiter, former DIJ research fellow Ralph Lützeler, and Sebastian Polak-Rottmann. It is published in the Nissan Institute/Routledge Japanese Studies series and available as hardback, paperback, and eBook.
Barbara Holthus in JDZB interview on Tokyo Olympics
"Japan and Tokyo are trying to reinvent themselves with the Olympic and Paralympic Games as a place of diversity, inclusion, cosmopolitanism, "coolness", and hospitality. They will also try to present the nuclear disaster of Fukushima as "overcome". All in all, Tokyo 2020 serves as a prism in which the hopes of a wide range of stakeholders are paired with the commercial interests of the IOC and the sponsors."
In the current issue of jdzb echo, the newsletter of the Japanese-German Center Berlin, Barbara Holthus is interviewed on the Tokyo Olympics and the book project Japan through the Lens of the Tokyo Olympics, of which she is a co-editor. Please note: the JDZB event scheduled for April 2 has been postponed. 

Publications
March 17, 2020
New Study: Use of robotic devices in elderly care in Japan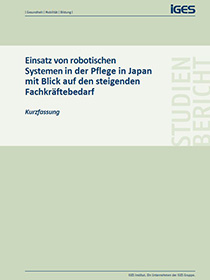 As part of a study conducted by the IGES Institute, Berlin, Franz Waldenberger (Director of DIJ) and Sieun Park (Scholarship student at DIJ) investigated to what extent robotic devices were applied in elderly care in Japan, how practitioners assessed their potential and what difficulties stood in the way of the spread of the technology. Given the severe labor shortage in elderly care, these questions are of utmost importance. The study was prepared for the German Federal Ministry for Economic Affairs and Energy. An abridged version of the final report (in German) can be downloaded here.
Publications
March 5, 2020
New Article on Anti-Olympic Opposition in Japan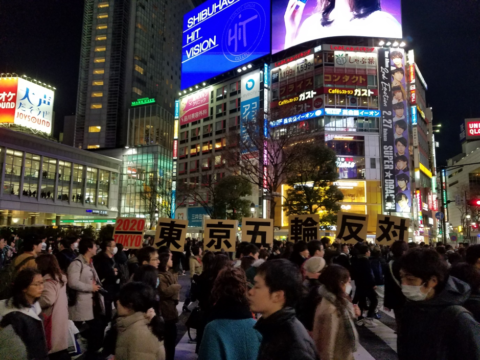 Since the radicalization of some leftist movements in the 1960s and 1970s, political activism in Japan is often met with skepticism or suspicion, and social movements are largely characterized by small and senior membership. Anti-Olympic opposition in Japan is largely sustained by activist veterans from this "invisible civil society". While this activism may alienate the public, connections to other Japanese social movements are rich, especially to the anti-nuclear movement that has emerged since the 2011 nuclear disaster.
Read more in 'Anti-Olympic Rallying Points, Public Alienation, and Transnational Alliances', a contribution by Sonja Ganseforth to the Special Issue on Japan's Olympic Summer Games in The Asia-Pacific Journal – Japan Focus, edited by Jeff Kingston.
Publications
March 1, 2020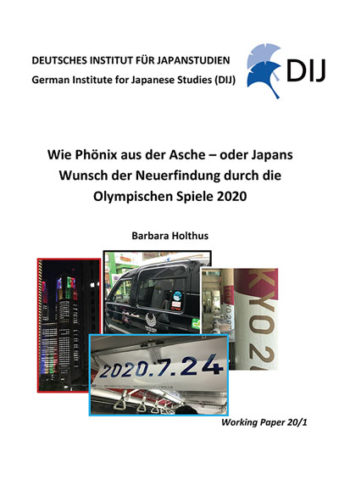 Das Jahr 2020 wird in Japan seit Jahren sowohl als Ziel und Neuanfang gehandelt, wenn die Welt für knapp 30 Tage auf das Land und ganz besonders Tokyo schaut. Stellvertretend für das ganze Land erhofft sich Tokyo, als Hauptstadt von "Cool Japan" und als Veranstalter der technologisch versiertesten Olympischen Spiele wahrgenommen zu werden. Japan will sich als Land präsentieren, das die wirtschaftlichen Auswirkungen der demographischen Entwicklung überwunden und sich wieder an die Spitze der Welt katapultiert hat. In diesem Beitrag blickt Barbara Holthus auf diese Anstrengungen zur Neuerfindung des Landes und wie die Olympischen Spiele hierfür instrumentalisiert werden.
Temporary closure of the institute
Following recommendations by the Japanese Ministry of Health, Labour and Welfare regarding measures to prevent the spread of the coronavirus, the DIJ has decided to close its institute temporarily (incl. library) and to cancel all public events until further notice. We ask for your kind understanding.
Please note: this event has been postponed. A new date will be announced in due course. We apologize for any inconvenience caused.

The transformation of the Japanese agricultural sector and the development of rural regions in the course of extensive infrastructure measures during the economic boom led to changes in many areas of rural life. Not only the often mentioned out-migration of younger generations but also the changing economic structures and the conditions for a livelihood in rural settlements were subjected to fundamental change. Among others, this also affected common work and the management of commons (common-pool resources) in the settlements, which had been embedded as a complex local system of cycles for a livelihood fitting the local environment.
By examining the grassland management of Aso (Kumamoto Pref.), I will first outline the natural conditions and then proceed to show how this transformation took place in the livestock farming sector and what problems the local population involved is currently exposed to. The lecture closes with an outlook on possible solutions, which I am currently exploring during a three-year field stay on behalf of the Japanese Ministry of Environment researching "Regionally cycling and symbiotic area" (地域循環共生圏) in order to initiate a discussion within this working group about other possible forms of sustainable development in rural Japan.
Speaker:
Johannes Wilhelm, Kumamoto University (Kumamoto)
Please note: this event has been postponed. A new date will be announced in due course. We apologize for any inconvenience caused.
Kabuki actors learn their skills from their fathers. Ikebana students pay their master for lessons. In contrast, artistic lineage in rakugo is not hereditary, and performers do not acquire their stories and acting skills in acting schools or from their fathers. Newcomers to the rakugo profession start their apprenticeship with a shishō, a master, without paying any compensation. For the rest of both of their lives the shishō is responsible for his deshi's (disciple) education and accountable for his off-stage behaviour. In return, the shishō expects his deshi's unquestioning loyalty, obedience and subordination.
The presentation provides a perspective on access to knowledge, knowledge acquisition, learning processes and structures inside Tokyo's yose theatres, as well as social relations among the stakeholders of the rakugo world. Sarah Stark's research is based on an analysis of printed interviews, autobiographies as well as one-on-one interviews with Tokyo rakugoka.
Speaker:
Sarah Stark, Ghent University