Events and Activities
Publications
January 7, 2022
Japan Jahrbuch: DIJ researchers and alumni look back at Japan 2021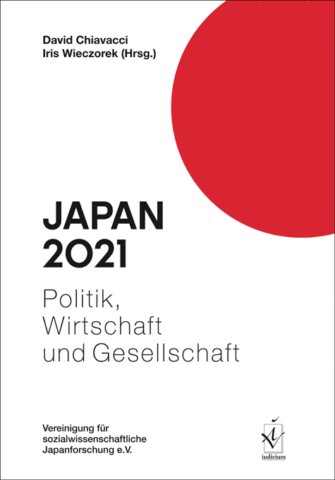 The latest issue of the Japan Jahrbuch, the yearbook published by the German Association for Social Science Research on Japan, includes several articles (in German) written by current and former DIJ researchers on Japanese politics, economics, history, society, and law. DIJ director Franz Waldenberger explains lessons from Japan's economic development while DIJ principal researcher Torsten Weber (with Anke Scherer, Bochum) analyses historical debates and historical consciousness. Articles by DIJ alumni include overviews of Japan's domestic politics by Christian G. Winkler (Seinan Gakuin University) and of post-Abe foreign and security policies by Kai Schulze (Berlin), on a class action lawsuit against TEPCO and the government by Anna Wiemann (Munich) and Köksal Sahin, on images of family households in Japanese media by Stefanie Reitzig, and on Japan as a dual earner society by Annette Schad-Seifert (Dusseldorf). For more details please see the table of content. The book is available as softcover and e-book from the publisher here.
Publications
January 4, 2022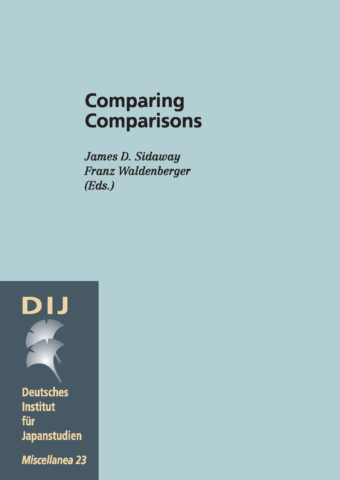 Comparing Comparisons, edited by James D. Sidaway and DIJ director Franz Waldenberger, is the latest volume published in our open-access DIJ Miscellanea series. It investigates which role comparisons play in different research fields, ultimately tackling the question of how and why we compare in the social sciences and humanities. The nine short essays collected in this volume reflect on aspects, methods, benefits, and possible pitfalls of comparisons from the perspectives of anthropology, economics, history, geography, Japanese Studies, and Southeast Asian Studies. It also tackles the problem of commodification and decolonization of comparisons. Contributors include DIJ principal researchers Isaac Gagné, Markus Heckel, Nora Kottmann and members of the DIJ's research group on "Borders, Mobility and New Infrastructures" at the National University of Singapore. The essays were originally published as blog entries on the open edition platform Hypotheses between May 2020 and May 2021. More details and link to download the PDF here.
Season's Greetings and best wishes for the New Year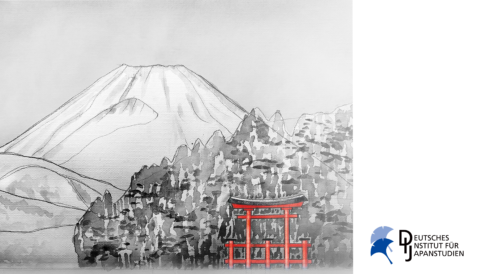 Das Deutsche Institut für Japanstudien wünscht erholsame und frohe Festtage und einen guten Start in ein erfolgreiches Jahr des Tigers!
The German Institute for Japanese Studies wishes you a happy holiday season and a successful Year of the Tiger!
ドイツ日本研究所一同、皆様のご多幸と来るべき新年が成功の年になることを祈念いたします。
Publications
December 10, 2021
Winter issue of DIJ Newsletter published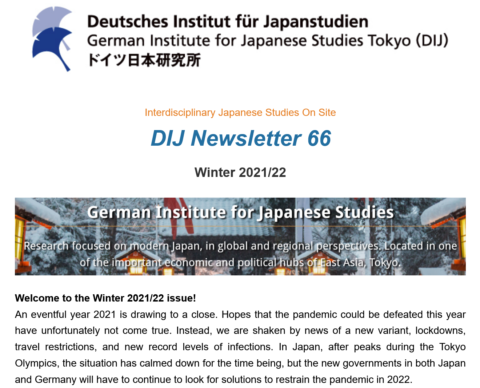 We have just published the winter issue of our DIJ Newsletter featuring updates on our research, publications, and events, including Web-Forum sessions on Digital Transformation; new publications in our DIJ Monographs and Miscellanea series; introducing our new staff member Luise Kahlow; updates on our Bandō Collection; activities of our alumni; an Advent Book Gift Campaign; new videos on our DIJ YouTube channel and much more. We hope you will enjoy exploring this new edition of the DIJ Newsletter. If you haven't done so yet, you can subscribe to receive it directly to your inbox. The full issue and subscription form are available here.
Publications
November 28, 2021
Research paper analyses self-reflexivity in quantitative research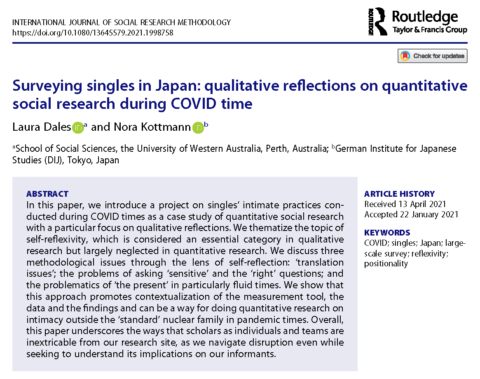 A new research paper by Laura Dales (University of Western Australia) and DIJ principal researcher Nora Kottmann analyses self-reflexivity, which is considered an essential category in qualitative research but largely neglected in quantitative research. "Surveying singles in Japan: qualitative reflections on quantitative social research during COVID times" (International Journal of Social Research Methodology, online first) discusses three methodological issues through the lens of self-reflection: 'translation issues'; the problems of asking 'sensitive' and the 'right' questions; and the problematics of 'the present' in particularly fluid times. The authors show that this approach promotes contextualization of the measurement tool, the data and the findings and can be a way for doing quantitative research on intimacy outside the 'standard' nuclear family in pandemic times. The paper is an outcome of Nora's research project COVID-19 and its effects on singles in Japan: Personal relationships and practices of intimacy in the time of 'social distancing' and 'self-discipline'.
Publications
November 25, 2021
Article by Torsten Weber looks back at legacy of Tokyo Olympics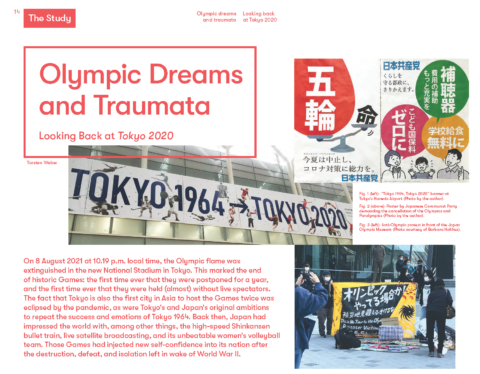 On 8 August 2021 at 10.19 p.m. local time, the Olympic flame was extinguished in the new National Stadium in Tokyo. This marked the end of historic Games: the first time ever that they were postponed for a year, and the first time ever that they were held (almost) without live spectators. Corona, scandals, debts, "cursed Olympics", inclusion, and record number of medals: what will Tokyo 2020 be remembered for? A new article by DIJ principal researcher Torsten Weber looks back at the positive and negative legacy of the Tokyo Olympics and sheds light on recent trends within Japanese society. "Olympic Dreams and Traumata" is published in the IIAS Newsletter (Vol. 90) and available open access. Torsten has also contributed to the DIJ's special project on the Tokyo Olympics and the open access book publication Japan Through the Lens of the Tokyo Olympics. 
DIJ researchers discuss care-led innovation, reactionary modernism, and Japanese-Thai relations at online conferences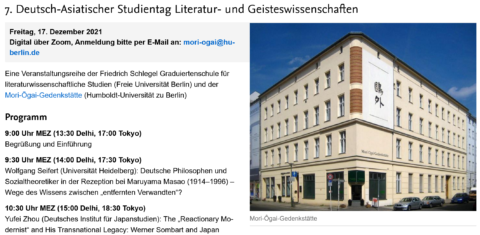 One week before Christmas Eve, DIJ historian Yufei Zhou will give a presentation on "The 'Reactionary Modernist' and His Transnational Legacy: Werner Sombart and Japan" at the 7th German-Asian Study Day in Literary Studies and the Humanities. The online Study Day on December 17th is organised by the Friedrich Schlegel Graduate School of Literary Studies at FU Berlin and the Mori Ōgai Memorial Center (HU Berlin). One day earlier, DIJ principal researcher Susanne Brucksch will participate as discussant in a panel on social innovation among helpers and the helped at the conference "Care-led innovation: The case of elderly care in France and Japan". The one-day event on December 16th is organised by the France-Japan Foundation of the Ecole des Hautes Etudes en Sciences Sociales (EHESS). On the same day, DIJ senior research fellow David M. Malitz will give a paper on "The First Visit of a Head of State: King Prajadhipok's Visit to Japan in 1931" as part of a panel on Japanese-Thai relations at the 7th Biennial International e-Conference of JSA-ASEAN. 
DIJ researchers teach courses on Japan and Germany in the pandemic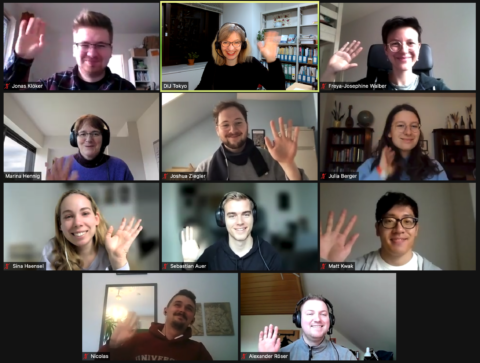 As part of a new cooperation between the DIJ and Johannes Gutenberg University Mainz, DIJ deputy director Barbara Holthus and principal researcher Markus Heckel taught two courses in the University's Q+ study programme. Within the unit "Japan and Germany during the Sars-CoV2 Pandemic", Barbara co-taught the course 'Family Life in the Pandemic: Comparing Germany and Japan' (with Marina Hennig, Mainz) focusing on how the pandemic and the regulations to contain it have affected family life in both countries. Together with Philipp Harms (Mainz), Markus co-taught the course 'Monetary Policy and Fiscal Policy-Responses to the Covid-19 Pandemic in Japan and Germany'. Their course focused on the monetary policies of the Bank of Japan and of the European Central Bank as well as on programmes by the fiscal authorities in Japan and Germany since the beginning of the pandemic. Both courses were received well by the interdisciplinary group of students. Further teaching and research cooperation activities are planned for 2022.