Events and Activities
DIJ research at 'Asia's New Ruralities' online conference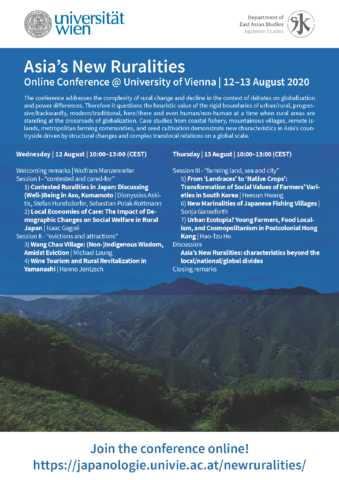 Our research fellows Sonja Ganseforth and Isaac Gagné will present their latest research on different aspects of rural Japan at the upcoming 'Asia's New Ruralities' online conference (August 12-13) at the University of Vienna. Based on case studies of small family businesses, cooperatives, and revitalization programmes in different fishing villages in Kyushu, Sonja's paper "New Marinalities of Japanese Fishing Villages" studies multiple influences on the shaping of new marine ruralities. Isaac's paper "Local Economies of Care: The Impact of Demographic Changes on Social Welfare in Rural Japan" analyzes the emergence of a resilient and innovative local economy of care among local actors and is based on results of his fieldwork in a rural community in Nagano Prefecture. Full programme and registration details here.
Franz Waldenberger in NHK World interview on recent stock market developments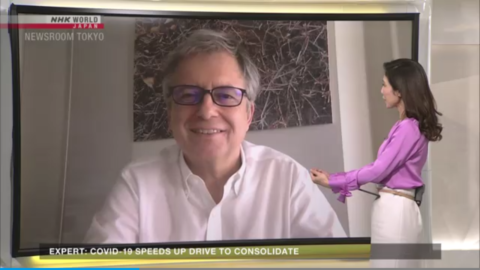 The value of tender offers, i.e. public takeover bids to purchase a major portion or all of a companies outstanding stock, have risen to a record in Japan this year. According to some experts the surge has been caused by the COVID-19 crisis because companies are now rushing to consolidate amid the business slowdown. On NHK World TV, DIJ director Franz Waldenberger explains what the increase in tender offers means for the Japanese economy and how the surge is related to the digital transformation. The interview was broadcast on NHK World's Newsroom Tokyo programme on July 14, 2020 and can be viewed for one month on NHK World's website.
Barbara Holthus in JDZB interview on Tokyo Olympics
"Japan and Tokyo are trying to reinvent themselves with the Olympic and Paralympic Games as a place of diversity, inclusion, cosmopolitanism, "coolness", and hospitality. They will also try to present the nuclear disaster of Fukushima as "overcome". All in all, Tokyo 2020 serves as a prism in which the hopes of a wide range of stakeholders are paired with the commercial interests of the IOC and the sponsors."
In the current issue of jdzb echo, the newsletter of the Japanese-German Center Berlin, Barbara Holthus is interviewed on the Tokyo Olympics and the book project Japan through the Lens of the Tokyo Olympics, of which she is a co-editor. Please note: the JDZB event scheduled for April 2 has been postponed. 

Temporary closure of the institute
Following recommendations by the Japanese Ministry of Health, Labour and Welfare regarding measures to prevent the spread of the coronavirus, the DIJ has decided to close its institute temporarily (incl. library) and to cancel all public events until further notice. We ask for your kind understanding.
DIJ Senior Research Fellow awarded prestigious dissertation prize
Harald Kümmerle, senior research fellow at the DIJ since January of this year, has been selected as the recipient of the Johannes Zilkens Dissertation Prize 2020. Every year, the German Academic Scholarship Foundation (Studienstiftung des deutschen Volkes) awards this prize for an outstanding dissertation from the humanities and social sciences. It is endowed with 5,000 euros.
Kümmerle has defended his dissertation on the "Institutionalization of mathematics as a science in Meiji- and Taishō-era Japan" at Martin Luther University Halle-Wittenberg in January 2019. According to the interdisciplinary jury, it "impressively bridges mathematics, Japanese Studies, and social sciences". The work gives "important impulses for the advancement of Japanese Studies, and extending beyond this, for the understanding of the development of sites of science and the organization of knowledge transfer".
https://www.studienstiftung.de/aktuelles/artikel/studienstiftung-vergibt-promotionspreise-2020-arbeiten-aus-der-chemie-und-japanologie-ausgezeichnet/
Fujisawa, October 8, 2019 — IBER-Kotosaka of Keio University announced today that it will be collaborating with the German Institute for Japanese Studies (DIJ) to conduct a survey on the business and management environment of technology intensive startups in Japan.

This research project is a collaboration between not just Keio University and DIJ, but along with researchers from Korea University, Hoseo University, Xi'an Jiaotong-Liverpool University, and Chongqing University
Barbara Holthus was interviewed for BBC on the continuing importance of mothers for providing lunch bento boxes to their children.