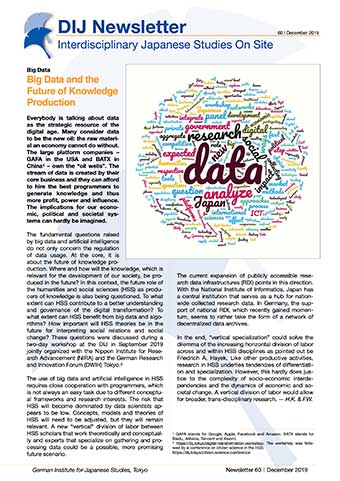 Report: Big Data and the Future of Knowledge Production
Everybody is talking about data as the strategic resource of the digital age. Many consider data to be the new oil: the raw material an economy cannot do without. The fundamental questions raised by big data and artificial intelligence do not only concern the regulation of data usage. At the core, it is about the future of knowledge production. Where and how will the knowledge, which is relevant for the development of our society, be produced in the future?
Studying Japan
In July 2019, an interdisciplinary group of 27 Japan scholars from Europe, Australia, the USA, Japan, and Singapore gathered in Berlin and discussed methodological opportunities and challenges in social science research on Japan against the backdrop of transnational entanglements, new technological developments, and new ethical challenges.
The insights of the international conference will be worked into the methods handbook Studying Japan which Nora Kottmann and Cornelia Reiher are currently editing.
New Cultural Studies Project
The project "Theater and Society in the Japanese Regions" analyzes how pressing issues of Japanese society are represented and negotiated in regional theater productions, based on recent concepts of theater and performance as a space for social debate. What topics and issues are addressed and how are they realized? What can the arts do to help coping with social issues? And what about their role for the revitalization of regional areas?