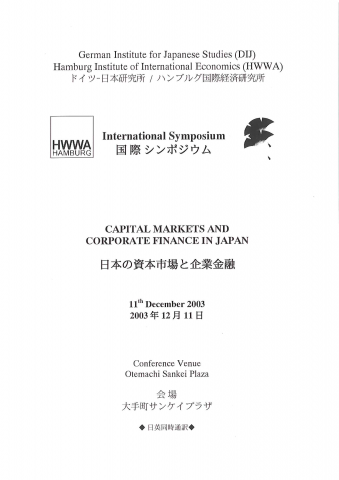 Download
Venue
Otemachi Sankei Plaza
1-7-2, Otemachi, Chiyoda-ku, Tokyo 100-0004
Access
Co-organizer
Andreas NABOR (HWWA Hamburg Institute of International Economics)
Registration Info
Capital Markets and Corporate Finance in Japan
December 11, 2003
Japan's financial system has been undergoing dramatic changes for several years. The so-called "Japanese Big Bang" can be seen as a milestone in this process which is not finished by far, and even the direction sometimes seems unclear. Questions as to whether and to what extent Japan is moving towards a market-based system, and how Japanese and foreign corporations in Japan should deal with these changes must be discussed.
The symposium is aimed to identify the current status of these changes regarding to the legal and institutional framework as well as to the implications on corporate finance. It will provide a place of exchange between international scholars and practitioners from the financial industry.
Japanese-English simultaneous translation is provided.
Presentations
09:30-09:50
Reception
09:50-10:00
Greetings
Irmela Hijiya-Kirschnereit
German Institute for Japanese Studies
10:00-12:15
Session 1: Capital Markets - The Framework

10:00-10:45
Change of the Japanese Financial System towards a Market-based System
OSAKI Sadakazu (Nomura Research Institute)
10:45-11:30
Current Situation of Japan's Banking Crisis
HORIUCHI Akiyoshi (Chuo University)
11:30–12:15
Asian Financial Markets in Competition
12:15-16:30
Session 2: The Enterprises

12:15-13:00
Corporate Finance in Big Stock Corporations
MIYAJIMA Hideaki (Waseda University)
13:00-14:30
Lunch Break
14:30-15:15
Corporate Finance in Small and Medium Enterprises
Ulrike SCHAEDE (University of California at San Diego)
15:15-16:00
Corporate Finance at Foreign Corporations in Japan
Andreas Moerke
German Institute for Japanese Studies
16:00-16:45
Manager Remuneration – Linkage with Corporate Performance and Share Price
SAKAMOTO Tsuneo (Meiji University)
16:45-17:00
Wrap-up and Closing Remarks