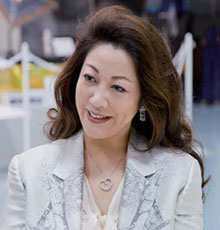 Download
Venue
Deutsches Institut für Japanstudien
Jochi Kioizaka Bldg. 2F
7-1 Kioicho, Chiyoda-ku
Tokyo 102-0094, Japan
Tel: 03 – 3222 5198, Fax: 03 – 3222 5420
Access
Registration Info
The lecture will be given in English. It will take place on Thursday, June 9th 2011 at 6.30 p.m. at the DIJ.
Admission is free but please register by email with: forum@dijtokyo.org
The Future Hope of Japan - Aerospace Science and Technology Developments of JAXA
June 9, 2011 / 6.30 P.M.
Midori Nishiura, Japan Aerospace Exploration Agency
This talk will introduce the Japan Aerospace Exploration Agency (JAXA), explain its mission and describe some of its recent programmes and accomplishments, such as astronaut Soichi Noguchi's long-endurance space mission and the Hayabusa and IKAROS missions. The question of how space exploration can contribute to scientific progress and life on earth will also be discussed.
Midori Nishiura is president of consulting firm Amadeus Inc., JAXA's Executive Advisor for Public Affairs and International Relations, and Visiting Professor of Yamaguchi University. Among many other important roles, Ms. Nishimura has served on the Advisory Board of various major companies and also sits on committees organized by government ministries and agencies. Author of many books as well as articles in leading publications, Ms. Nishiura having conducted her own interview programs on television, is often called upon to commentate on the news.