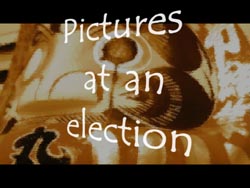 Details
Director: Axel Klein
Type: Documentary
Full movie duration: 68 min
© 2008 Axel Klein
Contact: election@dijtokyo.org
Film showings
December 8th, 2008 | 4:30 P.M.:
Sheffield, UK, University of Sheffield
September 16th, 2008 | 7:00 P.M.:
Tokyo, Foreign Correspondent Club Japan
August 30th, 2008 | 12:15 P.M.:
Chicago, American Political Science Association
April 5th, 2008 | 11:10 A.M.:
Atlanta, Georgia: Association of Asian Studies, Annual Meeting
Pictures at an Election
"Pictures at an Election" (the title is referring to Mussorgsky's suite "Pictures at an Exhibition" which features prominently in the film) is a 68 min. film that covers the campaigns of those candidates who tried to win one of the five seats in Tokyo during the Upper House election in 2007. It shows Japan's electoral machinery in full steam and focuses on the question of how Japanese candidates try to appeal to voters. The documentary depicts different strategies and techniques, and presents a lively picture of political culture in Japan.
Watch the trailer:
---
"Pictures at an Election" was filmed virtually "single-handedly" by political scientist Axel Klein during the 17 days of electoral campaigning in July 2007. On most days he spent 15 hours out on the streets of Tokyo, from Kita-Senju in the Northeast to Futago-Tamagawa in the Southwest, following the major candidates on their campaign trails. The daily route was mostly decided on the basis of information collected from the election headquarters of the candidates. After conducting interviews with many of the politicians featuring in the documentary, Klein edited the many hours of material between August 2007 and March 2008.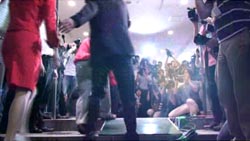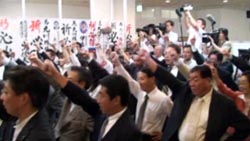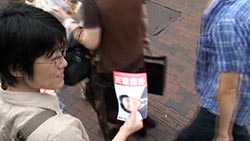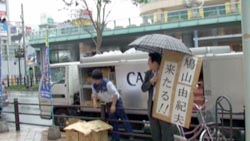 ---
"Pictures at an Election" for Educational Institutions
The German Institute for Japanese Studies believes that this documentary can be an essential supplement to all attempts to teach and understand the way Japanese politicians tick during election time.
The documentary is therefore subtitled in English and will be distributed for free to all educational institutions which request a copy. If you would like to receive one or if you have any questions concerning the film, please email to: election@dijtokyo.org.
The complete script of "Pictures at an Election" can be downloaded for free as a PDF-file (253 kb).
Among others, "Pictures at an Election" has been requested by and sent out to these institutions so far:
ASIA
Japan
Graduate School of Asia-Pacific Studies, Dept. of Int. Relations, Waseda University, Tokyo
Faculty of Law, Gakushuin University, Tokyo
Faculty of Policy Studies, Doshisha University, Kyoto
Wako University, Tokyo
Shiga University, Shiga
Faculty of Law, Hōsei University, Tokyo
Institute of Social Sciences, University of Tokyo
Afrasian Centre for Peace and Development Studies, Ryukoku University, Otsu
Komazawa University, Tokyo
Temple University Japan Library
Department for Social Welfare Studies, Sophia University, Tokyo
Singapore
National University of Singapore
Taiwan
Department of Political Science, National Chengchi University, Taipei
EUROPE
United Kingdom
School of Languages, Linguistics and Cultures, University of Manchester
National Institute of Japanese Studies, School of East Asian Studies, University of Sheffield
International and Area Studies, Duke University, Durham
School of Social Science and Law, Oxford Brookes University
University of Edinburgh, Business School
Cardiff Japanese Studies Centre, Cardiff University
Department of East Asian Studies, University of Leed
Faculty of Asian and Middle Eastern Studies, University of Cambridge
Nissan Institute of Japanese Studies, Oxford University
Germany
Ostasiatisches Institut für Japanologie, Universität Leipzig
Institut für Ostasienwissenschaften, Universität Duisburg-Essen
Institut für Politikwissenschaft und Japanologie, Universität Halle-Wittenberg
GIGA Institut für Asien-Studien, Hamburg
FB Rechtswissenschaft, Goethe-Universität Frankfurt am Main
FB Sozialwissenschaften, Universität Osnabrück
Institut für Sozialwissenschaften, Universität Hildesheim
Asien-Orient-Institut, Eberhard Karls Universität Tübingen
Japanologie, Fakultät für Ostasienwissenschaften, Ruhr-Universität Bochum
Austria
Dept. of East Asian Studies, University of Vienna
Switzerland
Völkerkundemuseum der Universität Zürich, Filmarchiv
Finland
Centre for East Asian Studies, University of Turku
Norway
Department of Sociology and Political Science, Norwegian University for Science and Technology, Trondheim
MIDDLE EAST
Israel
Department of Political Science, The Hebrew University of Jerusalem
Iran
Cultural and Art Creative Center, Sooreh University Tehran
NORTH AMERICA
USA
Center for International Studies, MIT, Cambridge
Department of Political Science, University of California at Davis
Department of Political Science, Western Michigan University, Kalamazoo, MI
Department of Political Science, University of Pennsylvania
Joseph Lauinger Memorial Library, Georgetown University, Washington DC
Foreign Service Institute, George P. Shultz Center, US Department of State, Arlington VA
Department of Asian Studies, University of Texas at Austin
Department of History, University of Oklahoma, Norman, OK
Department of Sociology and Anthropology, DePauw University, Greencastle, IN
Department of History, San Jose State University
Woodrow Wilson Dep. of Politics, University of Virginia, Charlottesville, VA
Colby College, Waterville, ME
Appalachian State University, Boone, NC
History Media Center, University of Delaware, Newark
Department of Political Science, Virginia Tech
Department of Political Science, Texas Christian University
Henry M. Jackson School of International Studies, University of Washington
Department of Political Science, Yale University
Department of Political Science, University of California, Los Angeles
Department of Political Science, Boston College
Department of Sociology, Bryn Mawr College, Bryn Mawr
Department of Political Science, Saint Joseph's University, Philadelphia
Department of Political Science, University of Wisconsin
School of International Relations and Pacific Studies, University of California, San Diego
Sam Nunn School of International Affairs, Georgia Institute of Technology, Atlanta, Georgia
Politics Department, Pomona College, Claremont
Department of National Security Affairs, Naval Postgraduate School, Monterey CA
Center for East Asian & Pacific Studies, University of Illinois at Urbana-Champaign
Department of Anthropology, CSU Sacramento
Department of Political Science, University of Utah, Salt Lake City
School of International Service, American University, Washington
Weatherhead East Asian Institute, Columbia University, New York
Dept. of Political Science at Rutgers, The State University of New Jersey
Canada
Wilfrid Laurier University, Waterloo, ON
Université du Québec à Montréal
Department of Political Science, University of British Columbia, Vancouver
OCEANIA
Australia
CLSE, Faculty of Education, Queensland University of Technology
Centre for Asian Studies, University of Adelaide
School of Humanities and Social Sciences, University of New South Wales, Canberra
New Zealand
Political Science and International Relations, Victoria University of Wellington
The University of Auckland
---
Many thanks to…
Okawara Masako
Yamaguchi Natsuo
Suzuki Kan
Marukawa Tamayo
Nakamura Keiichiro
Hosaka Sanzo
Kawada Ryuhei
Dr. Nakamatsu
Tanaka Yasuo
Mac Akasaka
Yamauchi Kazuhiko
Tamura Tomoko
Hosaka Nobuto
Sugiura Hitomi
Kakita Tomohiko
Sakurai Hajime
Matsumaru Makoto
Sato Norito
Hoshino Yayoi
Nishi Emiko
Arimatsu Junichiro
Shioda Mieko
Sato Yutaka
Tsubogo Minoru
Otsuka Taku
Kazuma Naoki
Julia Lange
Junko Ando
Barbara Holthus
Shioda Mieko
Suzuki Ayako
Asano Keiko
Montserrat Rius
Ingo Klein
and everyone at M.EM.A Obacho & DIJ Tokyo
Credits:
Technical Supervisor: Claus Harmer
Narration: Jack Merluzzi
Subtitles: Sabine Brink