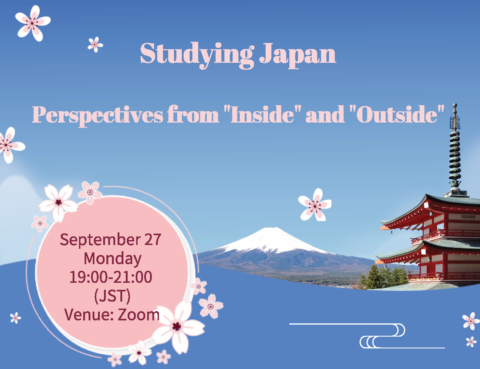 ダウンロード
場所
共同主催者
In cooperation with the Center for Japanese Studies,  Fudan University (Shanghai) and the Global Japanese Studies Education and Research Incubator (GJS-ERI), Osaka University
登録情報
Admission is free but registration is required via the form below.
Registration Form
Please use the form below to register for this event:

---
Please subscribe to our DIJ Newsletter to stay informed about our research activities, events, and publications:
Studying Japan. Perspectives from 'Inside' and 'Outside'
2021年9月27日 / 19.00-21.00 JST

The long tradition of systematic study of Japanese culture, the Japanese economy, and Japanese society by foreign scholars can be traced back as far as the Edo period. However, it was not until the early 21st century that such external perspectives began to attract significant academic attention and public interest inside Japan. Research institutes, faculties and departments named "International Japanese Studies", "Global Japanese Studies" and so forth are gradually becoming more visible in Japanese higher education and opening up innovative areas of research.
As an emerging field of study with an interdisciplinary and highly international nature, International/Global Japanese Studies is confronted by many challenges and uncertainties. These include conflicting views on research questions and methods, clashes between "inside" and "outside" perspectives, rapidly changing institutional structures and the application of recent technological innovations. With such recent developments in mind, the German Institute for Japanese Studies (Tokyo), the Center for Japanese Studies of Fudan University (Shanghai), and the Global Japanese Studies Education and Research Incubator (GJS-ERI) of Osaka University will hold a joint workshop to approach International/Global Japanese Studies from a variety of disciplinary perspectives and cultural backgrounds.
Please note: as indicated below, parts of this workshop will be held in Japanese without translation.
Program
Greetings and Opening Remarks
Barbara Holthus (German Institute for Japanese Studies)
Presentation 1
Studying Japan: Research Designs, Fieldwork and Methods
Nora Kottmann (German Institute for Japanese Studies)
Cornelia Reiher (Free University Berlin)
Presentation 2
The Acceptance of International Japanese Studies in China
HE Ping (Fudan University)
Presentation 3 (in Japanese)

Incubating "Global Japanese Studies": Beyond the Inside/Outside Binary
Unoda Shoya (Osaka University)
Nicholas Lambrecht (Osaka University)
Felipe Motta (Osaka University)
Discussants (in Japanese)
Chano Junichi (Teikyo University)
WANG Guangtao (Fudan University)
Moderator: Yufei Zhou (German Institute for Japanese Studies)