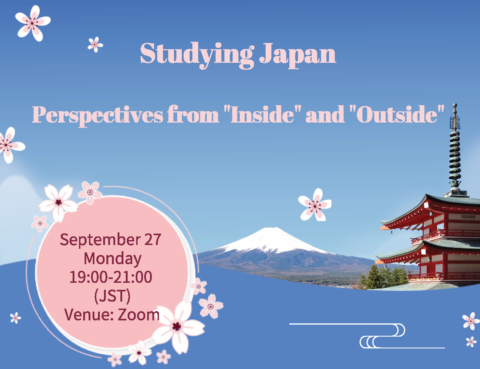 Download
Veranstaltungsort
Co-organizer
In cooperation with the Center for Japanese Studies,  Fudan University (Shanghai) and the Global Japanese Studies Education and Research Incubator (GJS-ERI), Osaka University
Anmeldung
This is a past event. Registration is no longer possible.
---
Please subscribe to our DIJ Newsletter to stay informed about our research activities, events, and publications:
Studying Japan. Perspectives from 'Inside' and 'Outside'
27. September 2021

The unprecedented acceleration of the global flow of people, goods, ideas and knowledge in the past decades brought up the urgent necessity to rethink "Area Studies" that presets a dichotomy of "inside" and "outside". This workshop brought together Japan experts from Free University Berlin, Fudan University, Osaka University, Teikyo University, and the DIJ to discuss how Japanese Studies are carried out abroad, and how the global or international Japanese studies in Japan are developing. It was attended by 73 participants from all over the world and various disciplines.
Barbara Holthus opened the workshop with a greeting address by highlighting the DIJ's longstanding effort in promoting Japanese studies in the international scholarly community. Nora Kottmann (DIJ) and Cornelia Reiher (FU Berlin) followed with an introduction on methodological issues in social scientific studies in Japan, including research design, fieldwork etc. Thereafter, in his presentation "The Acceptance of International Japanese Studies in China", He Ping (Fudan University) gave an overview over the reception of Japanese studies undertaken by Western scholars in China, concluding that works by US writers on Japanese peculiarities were most widely circulating. Unoda Shoya, Nicholas Lambrecht and Felipe Motta (Osaka University) tackled the recent institutional innovation in some Japanese universities, where institutes, faculties and departments of "Global/International Japanese Studies" have been established.
The following vivid discussion by Chano Junichi (Teikyo University) and Wang Guangtao (Fudan University) raised aspects such as the interdisciplinarity of the Japanese studies abroad and the difficulties to reach an academic consensus as well as the problem of language policy in global/international Japanese studies.
Programme
Greetings and Opening Remarks
Barbara Holthus (German Institute for Japanese Studies)
Presentation 1
Studying Japan: Research Designs, Fieldwork and Methods
Nora Kottmann (German Institute for Japanese Studies)
Cornelia Reiher (Free University Berlin)
Presentation 2
The Acceptance of International Japanese Studies in China
HE Ping (Fudan University)
Presentation 3 (in Japanese)

Incubating "Global Japanese Studies": Beyond the Inside/Outside Binary
Unoda Shoya (Osaka University)
Nicholas Lambrecht (Osaka University)
Felipe Motta (Osaka University)
Discussants (in Japanese)
Chano Junichi (Teikyo University)
WANG Guangtao (Fudan University)
Moderator: Yufei Zhou (German Institute for Japanese Studies)