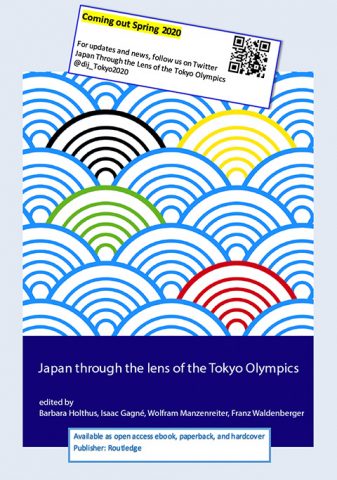 Link to publisher
Editors
Barbara Holthus
Isaac Gagné
Wolfram Manzenreiter (Universität Wien)
Franz Waldenberger
Authors
Peter Backhaus (Waseda University)
Isaac Gagné
Sonja Ganseforth
Steffen Heinrich
Katharina Heyer (University of Hawaii)
Maki Hirayama (Meiji University)
Barbara Holthus
Hanno Jentzsch
Axel P. Klein (Universität Duisburg-Essen)
Daniel Kremers
Nora Kottmann
Jan Lukas Kuhn
Ralph Lützeler (Universität Wien)
Wolfram Manzenreiter (Universität Wien)
Sebastian Polak-Rottmann (Universität Wien)
Florian Purkarthofer (Universität Wien)
Franz Waldenberger
Torsten Weber
In the media
Barbara Holthus in JDZB interview on Tokyo Olympics (3/2020)
Franz Waldenberger in ARD podcast Go to Tokyo to go #7 (1/2020)
Barbara Holthus in ARD podcast Go to Tokyo to go #6 (12/2019)
DIJ researcher interviewed by German radio ARD (11/2019)
DIJ researcher interviewed by Austrian national TV ORF for 'Sport am Sonntag' and 'Sport Plus' (5/2019)
Events & Presentations
Hanno Jentzsch, "Sanya 2020 – Tokyos Tagelöhnerviertel vor den Olympischen Spielen", Olympische Reihe Teil 2, OAG Tokyo (2/2020)
Barbara Holthus, "Tokyo 2020: Japans Versuch, sich neu zu erfinden", Olympische Reihe Teil 1, OAG Tokyo (1/2020)
Panel on 'Tokyo Through the Lens of the 2020 Olympics', German Association for Social Science Research on Japan (VSJF), Annual Conference, Ruhr University Bochum/Germany (11/2019)
Briefing of Artists (Passagenwerk 2020) for Goethe-Institute Tokyo, Asakusa Culture and Tourism Center (5/2019)
DIJ Roundtable 'Tokyo 2020 and Beyond: Legacies from Hosting the Olympic and Paralympic Summer Games' (10/2018)
Related Publications
Sonja Ganseforth, 'Anti-Olympic Rallying Points, Public Alienation, and Transnational Alliances', The Asia-Pacific Journal (Japan Focus), Vol. 18, Issue 5, No. 1 (3/2020)
Barbara Holthus, 'Wie Phönix aus der Asche – oder Japans Wunsch der Neuerfindung durch die Olympischen Spiele 2020', DIJ Working Paper 20/1 (3/2020)
Download
Japan through the lens of the Tokyo Olympics
The world is going to look towards Tokyo and Japan during the time of the Olympics in the summer of 2020. It is therefore the ideal time to publish a book ahead of the Games, situating the mega event within explanations of contemporary Japan, showing how the Olympics serve as catalyst for important issues in Japanese society. The book provides intelligent background information on the Olympics from multiple angles, showing the Olympics as a multifaceted event, deeply impacting society, politics, the economy, and public discourse already since several years ahead of the games.
The book offers multidisciplinary perspectives and is the product of ongoing research and extensive close communication among scholars from the fields of political science, sociology, economics, theater studies, history, anthropology, linguistics, and social geography.
The collection aims at the same time at the academic community (in Asian studies, social sciences, and sport studies), as well as at a broad, general readership, who are potential visitors to Japan in the lead up or during the Olympic games, and who look for an easy to read, yet intellectually stimulating account of numerous things surrounding the Olympic games that they could not read anywhere else than in this accumulation of articles.
The book will however also have a lasting impact and will not become obsolete after the Olympic games in Tokyo have wrapped up. The readers will receive many interesting aspects about the construction of the mega event, but also learn from the way the games were implemented, marketed, the reactions and response by the rest of the country, and how all this is historically embedded. Therefore the book provides a window onto Japan as a whole, not just the mega event itself. In addition, the book will also be of interest to students and colleagues within the diverse disciplines focusing on Japan, and can also serve as an alternative entry-level textbook to studying and teaching undergraduate students on Japan in sociology, anthropology, political science, and Japanese studies broadly.
The book will be available in paperback and open access by May 2020.
"Full of fascinating insights and information, it is sure to become a bible for anyone intending to attend (or even just watch) the 2020 Olympics in Tokyo. Definitely a winner."
—Roger Goodman, University of Oxford

"Take this book along as you ride the trains and explore the city. It will be valuable long after the last medal has been awarded."
—Patricia Steinhoff, University of Hawaii
TABLE OF CONTENTS
Understanding Japan through the lens of Tokyo 2020
Barbara Holthus, Isaac Gagné, Wolfram Manzenreiter, Franz Waldenberger
Olympics and the media
Wolfram Manzenreiter
Skateboarding: "F*** the Olympics"
Wolfram Manzenreiter
Political games
Axel Klein
Number games: The economic impact of Tokyo 2020
Franz Waldenberger
Climbing: New sport on the block
Wolfram Manzenreiter
Advertising the Games: Sponsoring a new era
Isaac Gagné
Karate: Bowing to the Olympics in style
Wolfram Manzenreiter
Herculean efforts: What the construction of the Olympic Stadium reveals about working conditions in Japan
Steffen Heinrich
Tokyo 2020 and neighborhood transformation: Reworking the entrepreneurial city
Ralph Lützeler
Ho(s)t city: Tokyo's fight against the summer heat
Jan Lukas Kuhn
Tokyo's architecture and urban structure: Change in an ever-changing city
Florian Purkarthofer
Success story: The 1964 Tokyo Olympics
Torsten Weber
San'ya 2020: From building to hosting the Tokyo Olympics
Hanno Jentzsch
Baseball/softball: One more homer for Japan
Wolfram Manzenreiter
Outdoor sports in the periphery: Far from the compact games
Daniel Kremers
Surfing: Taken with a grain of salt
Wolfram Manzenreiter
Tokyo's 1940 "Phantom Olympics" in public memory: When Japan chose war over the Olympics
Torsten Weber
Upgrading Tokyo's linguistic infrastructure for the 2020 Games
Peter Backhaus
Sexual minorities and the Olympics
Maki Hirayama
The Paralympic Games: Enabling sports and empowering disability
Katharina Heyer
Sex in the city
Maki Hirayama
Games of Romance? Tokyo in search of love and Unity in Diversity
Nora Kottmann
The 2020 Olympic mascot characters: Japan wants to make a difference
Jan Lukas Kuhn
Olympic education: How Tokyo 2020 shapes body and mind in Japan
Wolfram Manzenreiter
Sex in the Village
Maki Hirayama
Volunteering Japan-style: "Field cast" for the Tokyo Olympics
Barbara Holthus
The difference between zero and one: Voices from the Tokyo anti-Olympic movements
Sonja Ganseforth
Beyond 2020: Post-Olympic pessimism in Japanese cinema
Jan Lukas Kuhn
Tokyo 2020 from the regional sidelines
Isaac Gagné
Olympic leverages: The struggle for sustainable food standards
Sonja Ganseforth
Security for the Tokyo Olympics
Sebastian Polak-Rottmann
The Olympic and Paralympic Games as a technology showcase
Franz Waldenberger
Tokyo 2020: Connecting the past with the future
Round table discussion with Munehiko Harada, John Horne, Wolfram Manzenreiter
Personal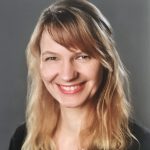 Barbara Holthus
(Soziologie)
Stellvertretende Direktorin
Ausgewählte Publikationen