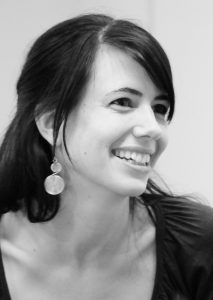 Sonja Ganseforth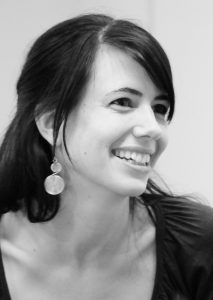 Social Science, Human Geography
Since March 2017
Sonja Ganseforth has received her doctorate from the University of Leipzig and the DFG graduate school "Critical Junctures of Globalization" after studying Arab Studies, Japanese Studies and German as a Foreign Language in Leipzig, Kyoto and Damascus for her Magister degree. Her dissertation dealt with Japanese development politics in the Middle East. Her main research interests include the social and economic geography of the globalization of agrifood systems, rural livelihoods, maritime territoriality, property rights in natural resources and the Political Ecology of food. At DIJ she is conducting research on Japanese fisheries in the context of major global transformations.
DIJ Projects
Japan's "blue economies"? Japanese firms in the restructuring of the global seafood trade
Fishing communities between growth and demise
What is the "local"? - Rethinking the politics of subnational spaces in Japan
The Future of Local Communities in Japan - Risks and Opportunities in the Face of Multiple Challenges
Selected Publications
Articles
2015
Fisch in Japan. Machtverschiebungen im Fischereisektor, Revitalisierungsstrategien und nationale Konsumdiskurse.[Fish in Japan – Power Shifts in the Fisheries Sector, Rural Revitalization and National Discourses of Consumption.]
In: Sippel, Sarah u. Reiher, Cornelia (Ed.) Umkämpftes Essen: Produktion, Handel und Konsum von Lebensmitteln in globalen Kontexten. [Contested Food – Production, Trade and Consumption of Food in Global Contexts.]. Göttingen: Vandenhoeck & Ruprecht. pp. 227 - 246.
2014
[With: Jörg Gertel und Rachid Ouaissa] Jugend in der Arabischen Welt. [Youth in the Arab World.]
In: Gertel, Jörg u. Rachid Ouaissa (Ed.) Jugendbewegungen. Städtischer Widerstand und Umbrüche in der arabischen Welt. [Youth Movements. Urban Resistance and Upheaval in the Arab World.]. Bielefeld: transcript. pp. 12 - 29.
2012
Contested Palestinian Spaces amidst Regional Upheavals.
In: Gertel, Jörg u. Amira Augustin (Ed.) Conference Reader. Realigning Power Geometries in the Arab World. Leipzig: Orientalisches Institut. pp. 200 - 202.
2011
Japanese Fish Markets, Chinese Seafood Palaces and Global Sushi: Meeting Theodore C. Bestor.
In: International Journal of Sociology of Agriculture and Food 18 (2). pp. 149 - 161.
2011
Ressourcenkonflikte in der Fischerei. [Resource Conflicts in Fisheries.]
In: Geographische Rundschau [Geographic Review] 7‑8. pp. 60 - 62.
2010
Arturo Escobar.
In: Middell, Matthias und Ulf Engel (Ed.) Theoretiker der Globalisierung. [Key Thinkers of Globalization]. Leipzig: Leipziger Universitätsverlag. pp. 165 - 178.
Other Articles
2017
[With: Jentzsch, Hanno] Demografischer Wandel als kommunalpolitische Herausforderung. Japanische und deutsche Gemeinden im Austausch
In: Weltweit vor Ort, 2-2017. pp. 31-32.
2017
[With: Jentzsch, Hanno] Bericht zum zweiten deutsch-japanischen Symposium "Demografischer Wandel als kommunalpolitische Herausforderung – Lösungsstrategien japanischer und deutscher Gemeinden" am 12. Mai 2017 in Tokyo
In: Bundesministerium für Familie, Senioren, Frauen und Jugend (Ed.) Strategien zur Bewältigung des demografischen Wandels in Deutschland und Japan. Band 2. Berlin: BMFSFJ. pp. 74-102.
Presentations
October 19, 2018
Contesting multi-dimensional boundaries in fishery cooperatives. "What is the local? Rethinking the politics of subnational spaces in Japan," DIJ Symposium, Tokyo.
October 2, 2018
Occupying infrastructures - Contested development in Palestine. Transregional Academy "Infrastructures, Regions and Urbanizations", NUS, Singapore.
September 28, 2018
Knowledge and Power in Palestinian Development Politics. World Social Science Forum, Fukuoka University.
July 28, 2018
Rural livelihoods and global commodity chains in shrinking Japanese fisheries. Rural Sociological Society (RSS), Portland.
June 30, 2018
Fish as Cultural Commodity. The Transformation of Coastal Fisheries in Japan. Asian Studies Conference Japan (ASCJ), International Christian University, Tokyo.
June 24, 2018
Japanese Companies in the Restructuring of Global Seafood Production Networks. Society for the Advancement of Socio-Economics (SASE), Doshisha University, Kyoto.
April 29, 2018
Multi-dimensional boundaries in fishery cooperative communities. Anthropology of Japan in Japan (AJJ) Spring Meeting, Meiji University, Tokyo.
January 26, 2018
Lebewesen, Nahrungsmittel oder kulturelles Konsumprodukt? Fisch in japanischen Revitalisierungsprogrammen. Neue Kulturgeographie XV, Freiburg.
December 10, 2017
Fishing for Culture? Re-Educating Fishers as Self-Marketing Entrepreneurs. AJJ Fall Meeting 2017, Doshisha University, Kyoto.
November 2, 2017
Institutional Change in Japan's Peripheries. Rural Areas between Decentralization, Deregulation, and Dependency. (Panel Chair). VSJF 2017 Annual Conference, University of Vienna.
September 1, 2017
Survival at the Margins. Precarious Livelihoods in Rural Japanese Fishing Communities. 15th EAJS Conference, Universidade NOVA, Lisbon.
September 3, 2015
From Animal to Functional Food. Converting Fish into High-tech Commoditites. 26th Conference of the Japan Anthropology Workshop (JAWS) 2015, "Technology and Nature", Istanbul.
August 26, 2015
Die alten Männer und das Meer. Krisenbewältigungsstrategien in der japanischen Fischerei. 16. Deutschsprachiger Japanologentag, München.
May 8, 2015
Japanese Seafood Companies as Portals of Globalization. Critical Junctures of Globalization, Final Conference, 7. - 9. Mai 2015, Leipzig.
December 2, 2014
Die Frage von sozialer Nachhaltigkeit in der japanischen Küstenfischerei. 100 Jahre Ostasiatisches Institut an der Universität Leipzig, Fachtagung und Jubiläumsfeier, Leipzig.
November 25, 2014
Social Sustainability in Japanese Fishing Communities. Agrifood XXI, Sydney.
September 26, 2014
Raumbesetzungen in einem japanischen Entwicklungsprojekt in Palästina. 21. DAVO-Kongress, Köln.
August 27, 2014
Asian Peacemakers? Positioning Japan in the Middle East. 14. Internationale EAJS-Konferenz, Ljubljana.
January 30, 2014
Neoliberal Development Politics in Palestine. International Seminar on Corporate Jurisprudence. State over Commerce or Commerce over State? Amity University, Lucknow, Indien.
June 7, 2012
From Anti-imperialist Peer to Neo-colonial Power? Japan's Role in West Asia. Inter-Asian Connections III, Hong Kong.
March 20, 2012
Regional Upheavals, Contested Spaces and Japanese Development Projects in Palestine. Middle East Research Competition, Tunis.
November 29, 2011
Der 'Arabische Frühling' – eine regionale Krise? Akteure, Ursachen und Perspektiven aktueller Umbrüche zwischen Casablanca und Damaskus. Leipzig (Co-Organisation des Symposiums).
August 25, 2011
Contested Spaces in the Japanese Fishing Sector. 13. Internationale EAJS-Konferenz, Tallinn.
September 23, 2010
Fishy Issues. Normenkonformität und Divergenz in der internationalen Fischerei. VIII. Internationale Sommerschule "Transnational Actors – Actors of Transnationalisation", Leipzig.
September 30, 2009
Fishery Communities in Changing Contexts of Ecology, Regulation and Privatization. VII. Internationale Sommerschule "Memory Culture in Transcultural and Transnational Perspective", 28. September – 1. Oktober 2009, Leipzig.
May 6, 2009
Bruchzonen in der Aushandlung maritimer Territorialität und Eigentumsrechte. DFG-Vernetzungstreffen "Kulturkontakt? Potential und Grenzen eines Begriffs", Warnemünde/Rostock.
Curriculum Vitae
01/2014 - 10/2015
Research fellow at the East Asian Institute, Japanese Studies, University of Leipzig
01/2014 - 03/2014
Research Affiliate at Jawaharlal Nehru University, New Delhi, India
09/2013 - 12/2013
Research assistant at the Oriental Institute, University of Leipzig
04/2009 - 11/2013
Doctoral studies, DFG graduate school "Critical Junctures of Globalization" at the University of Leipzig
10/2010 - 03/2012
Research fellow at the Centre for Area Studies, University of Leipzig
02/2009
Master's degree at the University of Leipzig (Arab Studies, Japanese Studies and German as a Foreign Language)
02/2006 - 08/2006
Semester abroad, University of Damascus, Syria
04/2005 - 02/2006
Study in Kyōto Program at Ritsumeikan University in Kyōto, DAAD scholarship