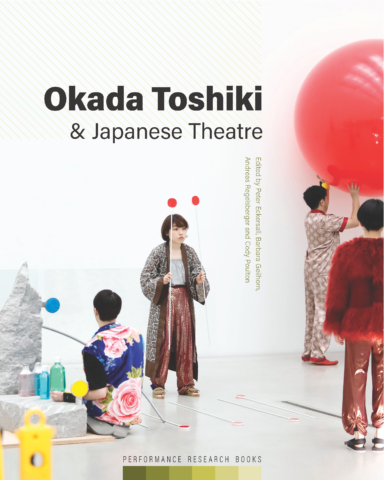 Order via publisher website
Book Project: Okada Toshiki & Japanese Theatre
June 2019 - June 2022
Edited by Peter Eckersall, Barbara Geilhorn, Andreas Regelsberger, and Cody Poulton
Playwright, novelist and theatre director Okada Toshiki (b. 1973) is one of the most prominent voices of the current generation of Japanese contemporary theatre makers. He founded his globally influential theatre company chelfitsch in 1997. His plays, which have been staged at a large number of theatre festivals in Japan and all over the world, address issues such as social inequity, life in Japan after the 3/11 triple disaster and post-human society. Okada is a theatrical visionary whose use of language in 
his plays is indeed stimulating, ranging from the use of everyday colloquial expressions to meta-commentaries about the nature of language and its failure to communicate the complexity of human experience. As a pioneering artist in the 
field of interdisciplinary arts, Okada has created 
new forms of embodied performance. He has radically expanded the contexts and sites for live performance and has shown his works in theatres, nightclubs and galleries, on film and through 
digital media platforms.
Okada Toshiki & Japanese Theatre explores Okada's work and its importance to the development of contemporary performance in Japan and around the world. Gathered here for the first time in English is a comprehensive selection of essays, interviews and translations of three of Okada's plays by leading scholars and translators. Okada's writing on theatre is also included, accompanied by an extensive array of images from his performances. In addressing the work of Okada Toshiki from an interdisciplinary perspective, the book provides an in-depth analysis of an outstanding Japanese artist and at the same contributes to a better understanding of art and society in contemporary Japan.
'The phenomenal success of Okada Toshiki's global productions has galvanized international critics into forming intriguing theoretical perspectives on his theatre. Acknowledging Okada's affinity to Japan's lost generation, Brechtian distantiation and Noh aesthetics, these critics have applied new conceptual frames such as the poetics of disarticulation, the poesis of liminality and slow dramaturgy to elucidate the deep structure of his performances.' -- Mari Boyd, Professor Emeritus, Sophia University

'The first book ever to be dedicated to one of the most influential theatre makers, so complete with analyses by eminent scholars across continents, Okada's own interviews and pieces in translation. Bliss.' -- Fujii Shintaro, Waseda University
TABLE OF CONTENTS
Acknowledgements
Introduction
SECTION ONE: OKADA'S DRAMATURGY
Okada Toshiki's Narrative Method
Cody Poulton
The 'Hyper-Real' and the Shadow of Noh
Stanca Scholz-Cionca
Making Time Material: On Okada Toshiki's Time's Journey Through a Room (2016)
Sara Jansen
Translating Okada Toshiki
Andreas Regelsberger
Fuzzy Boundaries, Foggy Pictures: Okada Toshiki's poesies of liminality
Iwaki Kyōko
Ruptures, Gravity, Dwelling. Reflections on Okada Toshiki's movement aesthetic
Holger Hartung
SECTION TWO: ART, SOCIETY AND GLOBALITY
Seen From Close-up in the Distance: Shibuya as a bubble downtown
Noda Manabu
Simultaneous Turns in Globality: Performative and social turns in the new millennium, or theorizing/historicizing Okada Toshiki's welcome to European festival cultures
Uchino Tadashi
Reflections on Precarity and Emotional Fulfillment in Everyday Life in the Theatre of Okada Toshiki
Barbara Geilhorn
'Who Knows We Want To Be An International Artist?' Producing Okada Toshiki's theatre and the international scene
Yokobori Masahiko
Okada Toshiki's Dramaturgy in the Post-global Condition
Peter Eckersall
Foreign Assembly: Okada's Time's Journey through a Room in the United States
Carol Martin
SECTION THREE: DOCUMENTS, INTERVIEW AND PLAYS
An Interview with Okada Toshiki
Iwaki Kyōko
Reflux: A protean theatre theory
By Okada Toshiki. English translation by Iwaki Kyōko
Sounding like a Typical Post-Corona Theory of Theatre
By Okada Toshiki. English translation by Cody Poulton
THREE PLAY TRANSLATIONS
Hot Pepper, Air Conditioner, and The Farewell Speech
By Okada Toshiki. English translation by Aya Ogawa
The Sonic Life of a Giant Tortoise
By Okada Toshiki. English translation by Aya Ogawa
Ground and Floor
By Okada Toshiki. English translation by Aya Ogawa
List of Works
Contributor Biographies
Related Research Projects
Events