Research Overview
Local Issues Take Stage – Culture and Community Revitalization: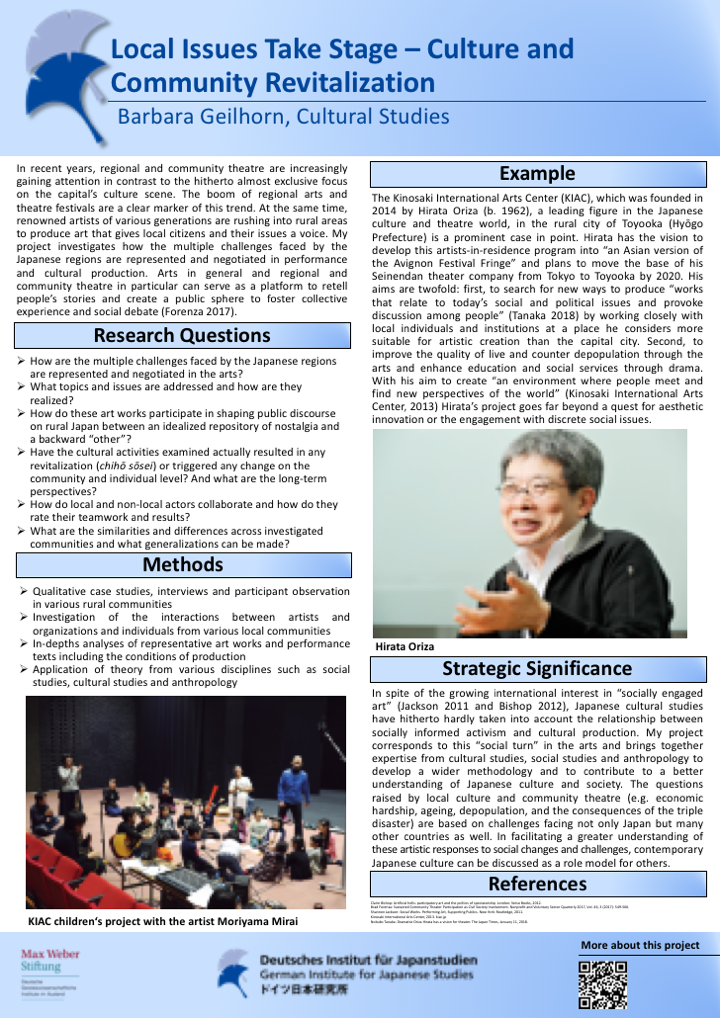 English, PDF (1,9 MB)
Local Issues Take Stage – Culture and Community Revitalization
October 2018 - September 2023
In recent years, regional and community theatre are increasingly gaining attention in contrast to the hitherto almost exclusive focus on the capital's culture scene. The boom of regional arts and theatre festivals are a clear marker of this trend. At the same time, renowned artists of various generations are rushing into rural areas to produce art that gives local citizens and their issues a voice. My project investigates how the multiple challenges faced by the Japanese regions, including economic hardship, aging, depopulation, and the consequences of the triple disaster, are represented and negotiated in performance and cultural production. Arts in general and regional and community theatre in particular can serve as a platform to retell people's stories and create a public sphere to foster collective experience and social debate. In addition to giving local communities a voice through performance, theatre can contribute to psychological empowerment and community building alike. The questions raised by local culture and community theatre are based on challenges facing not only Japan but many other countries as well. In facilitating a greater understanding of these artistic responses to social changes and challenges, contemporary Japanese culture can be discussed as a role model for others.
My project includes in-depths analyses of representative productions and performance texts in their social contexts, an investigation of the interactions between theatre makers and various local communities, and the perception of this cooperation by locals and non-locals. I also take into account how these productions participate in shaping public discourse on rural Japan between an idealized repository of nostalgia and a backward "other." Based on qualitative case studies in various rural communities I will finally consider to which extend the cultural activities examined actually resulted in changes on the individual and community level, scrutinize the long-term perspectives and compare the similarities and differences across investigated communities.
Completed Projects
Recent Publications
Geilhorn, Barbara (2022).
Die japanischen Regionen als Innovationsmotor für Kultur und Gesellschaft – Feldforschung in der japanischen Provinz.
LINK
Geilhorn, Barbara (2021). "Towards a culture of responsibility – relating Fukushima, Chernobyl, and the atomic bombings in Setoyama Misaki's theatre".
Japan Forum
, DOI: 10.1080/09555803.2021.1942138.
LINK
Geilhorn, Barbara (2019). "Theater und Gesellschaft in Japans Regionen". DIJ Newsletter, 60.
Geilhorn, Barbara (2019). "A Multifaceted Fukushima—Trauma and Memory in Ōnobu Pelican's Kiruannya and U-ko".
The Asia-Pacific Journal
, 17, Issue 1, No.1.
LINK
Events
Team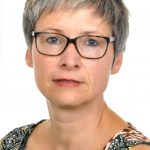 Barbara Geilhorn (until September 2023)


Cultural Studies, Theater and Performance Studies