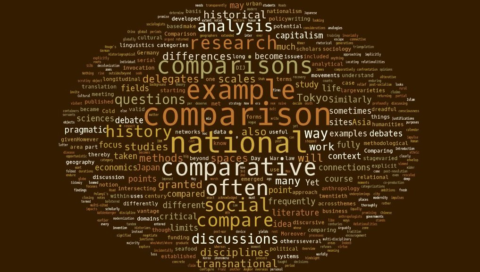 Collaborating partner
Professor James D Sidaway, NUS, Department of Geography
Comparing Comparisons
September 2019 - February 2022
Our knowledge is based on comparisons. Information is generated by variations in the object of observation. It is change and differences that matter. However, comparisons between two or more objects can only be drawn if there is a commonly accepted framework (taxonomy or theory) applied in the description, the comparison, and the analysis of the objects.
The once common idea that the social sciences offer a universal framework for the analysis of human action has been widely challenged, despite the claims made, for example, by some branches of economic theory (although the rejoinder would be that sufficiently abstract theories can claim universality, but they will then necessarily be void of empirical manifestations). In addition, the question of comparison(s) in the humanities has been greatly enriched through the debates about the status of and prospects for world and comparative literature as well as global history.
The research project 'Comparing Comparisons' investigates the roles comparisons play in different research fields and disciplines, ultimately tackling the question of how and why we compare in the social sciences and humanities. In an interdisciplinary workshop at the DIJ in December 2019, a group of 17 DIJ researchers and scholars affiliated with the Max Weber Research Group at the National University of Singapore discussed the role comparisons play in their own respective disciplines and research projects. Revised versions of the papers presented are consecutively published on the Trafo Blog for Transnational Research Comparing Comparisons.
Related Research Projects
Completed Projects
Recent Publications