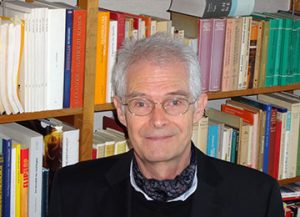 Florian Coulmas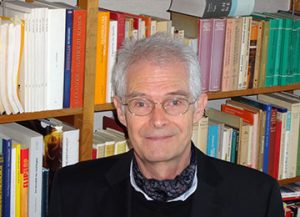 Director (2004 - 2014)
Director
DIJ Projects
Completed DIJ Projects
Happiness in Japan: Continuities and Discontinuities
"A Happy Person": A Japanese-German Comparison of Factors of Life Satisfaction
The Language of Science, a Case Study about the University of Tokyo
Challenges of Demographic Change
Selected Publications
Articles
2014
[With: Tiefenbach, Tim] Civil Society and Happiness: Japan and Beyond
In: Voluntas. February 2015, Volume 26, Issue 1 (Onlineversion: 10.10.2014). pp. 1-4.
2014
Writing systems and language contact in the Euro- and Sinocentric worlds
In: Applied Linguistics Review. 2014; 5(1). pp. 1-21.
2012
[With: Guerini, Federica] Literacy and writing reform
In: Spolsky, Bernhard (Ed.) The Cambridge Handbook of Language Policy. Cambridge: Cambridge University Press. pp. 437-460.
2012
Social Practices of Speech and Writing
In: Hogen, Patrick Colm (Ed.) The Cambridge Encyclopedia of the Language Sciences. Cambridge: Cambridge University Press. pp. 35-45.
2011
Freiheit und Sitte. Aspekte der Naturkatastrophe in Japan
In: Lettre International 93. Sommer 2011. pp. 43-46.
2010
The Bitter Fruits of Success
In: Schad-Seifert, Annette; Shimada, Shingo (Ed.) Demographic Change in Japan and the EU: Comparative Perspectives. Düsseldorf: Düsseldorf University Press. pp. 17-36.
2009
Back to the future: Literacy and the Art of Writing in the Age of Cyberspace
In: Consani, Carlo; Furiassi, Cristiano; Guazzellio, Francesca; Perta, Carmela (Ed.) Atti del 9˚ Congresso dell'Associazione Italiana de Linguistica Applicata. Perugio: Guerra Edizioni. pp. 93-113.
2009
Schatten von Nagasaki
In: Bigg, Charlotte; Hennig, Jochen (Ed.) Atombilder. Ikonografie des Atoms in Wissenschaft und Öffentlichkeit des 20. Jahrhunderts. Göttingen: Wallstein. S. 118-125.
2009
Language and Economy
In: Li, Wei; Cook,Vivian (Ed.) Contemporary Applied Linguistics. Volume 2, Language for the Real World. London & New York: Continuum Int. Publishing Group. p. 28-45.
2009
An Essay on the Question of Linguistic Identity
In: Inagaki, S.; et al. (Ed.) Studies in Language Sciences 8. Tokyo: Kurosio. p. 3-12.
2008
Linguistic Landscaping and the Seed of the Public Sphere
In: Shohamy, E.; Gorter, D. (Ed.) Linguistic Landscape: Expanding the Scenery. London & New York: Routledge. pp. 13-24.
2008
Milder Moloch
In: Rühle, Alex (Ed.) Megacitys. Die Zukunft der Städte. München: C.H. Beck. pp. 145-150.
2007
Bevölkerungsalterung und sozialer Wandel: Stolpersteine auf dem Weg in Japans überalterte Gesellschaft
In: Japan nach Koizumi. Wandel in Politik, Wirtschaft und Gesellschaft. Baden-Baden: Nomos. S. 227-240.
2007
Abe Clausewitz. Japan vor der Änderung seiner pazifistischen Verfassung
In: Kommune 2/2007. pp.44-45.
2007
The case for choice - language preferences in Japanese academic publishing
In: Coulmas, Florian (Ed.)
Language Regimes in Transformation.
DIJ Publications. Mouton de Gruyter. pp.155-172.
2006
Japan's Bid for a Permanent Seat on the UN Security Council
In: Schucher, Günter (Ed.) Asien Nr. 100, Juli 2006. Special Issue. Reflections on Asia in the 21st Century. Deutsche Gesellschaft für Asienkunde e.V.. pp. 18-22.
2006
The power to choose and its sociolinguistic implications
In: Pütz, Martin; Fishman, Joshua A.; Neffvan van Aertslaer, JoAnne (Ed.) Along the routes to power : explorations of empowerment through language. Berlin: Mouton de Gruyter. pp. 55-71.
2005
Changing language regimes in globalizing environments
In: Heinrich, Patrick; Coulmas, Florian (Ed.) International Journal of the Sociology of Language 175/176. Changing Language Regimes in Globalizing Environments: Japan and Europe. Berlin, New York: Mouton de Gruyter. pp. 3-16.
2005
Economic Aspects of Languages
In: Sociolinguistics. An International Handbook of the Science of Language and Society. Berlin, New York: Mouton de Gruyter. p. 1667-1674.
2003
Die Zeit in Engelbert Kaempfers Zeit
In: Engelbert Kaempfer (1651-1716) und die kulturelle Begegnung zwischen Europa und Asien. Lemgo: Institut für Lippische Landeskunde. p. 169-184.
2002
Europa mit chinesischen Augen
In: DAMALS. Das Magazin für Geschichte und Kultur. Leinfelden-Echterdingen: Konradin Medien. p. 44-45.
2002
[With: Makoto Watanabe] Japan's nascent multilingualism
In: Li Wei, Jean-Marc Dewaele, Elex Housen (Ed.) Opportunities and Challenges of Bilingualism. Berlin. New York: Mouton de Gruyter. p. 59-62.
2002
Der Westen auf dem Siegeszug? Das Internet wirft die Frage nach einer Universalschrift auf
In: Leseforum Schweiz. Bulletin 11. Zürich: Leseforum Schweiz. p. 11-14.
2002
Monolinguistic Assumptions under Pressure – Perspectives on the language of Tokyo from the points of view of the economics of language and social psychology
In: Asien. Hamburg: Deutsche Gesellschaft für Asienkunde e.V.. p. 8-18.
2002
Language masters: defying linguistic materialism
In: mouton classics – from syntax to cognition, from phonology to text. Berlin, New York: Mouton de Gruyter. p. 719-730.
2002
Comment: Writing is crucial
In: Joshua A. Fishman (Ed.) International Journal of the Sociology of Language, 157. Berlin, New York: Mouton de Gruyter. p. 59-62.
2002
Impacts of globalization on cultural identity
In: Wolfgang Dorow, Timo Parra, Yoshiaki Takashi (Ed.) A Cultural Forum - The Impact of Globalization on Cultural Identity in Business. Gütersloh: Bertelsmann. p. 30-37.
2001
Sociolinguistics
In: Mark Aronoff and Janie Rees-Miller (Ed.) The Handbook of Linguistics. Malden, Massachussetts: Blackwell. p. 563-581.
Reviews
2010
Sealed for eternity? Review of 'Unsealing the Indus Script. Anatomy of its Decipherment'. Malati J. Shendge. Niw Delhi: Atlantic Publishers, 2010, 402 p.
In: Writing Systems Research. Vol 2, No. 2, 2010. pp. 169-171.
2007
Japan after Japan: Social and Cultural Life from the Recessionary 1990s to the Present. Edited by Tomiko Yoda and Harry Harootunian. Durham, London: Duke University Press, 2006
In: Pacific Affairs. Vol 80, No.1. pp. 105-106.
2001
Roy Harris: Rethinking writing. London: Athlone; Bloomington: Indiana University Press, 2000
In: Written Language and Literacy. Amsterdam: John Benjamins Publishing Company. p. 215-218.
Newspaper Articles
2007
Drei Jahrzehnten Asean
In: NZZ Fokus Nr 31. Asiatische Tigerstaaten. Im Windschatten der Giganten China und Indien. pp.8-11.
Academic Awards
1994/95
Fellow Institute of Advanced Study Berlin
1983
Heisenberg-Fellow of Deutsche Forschungsgemeinschaft
1982
Japan Foundation Grant
1980
Fellow of Japan Society for the Promotion of Science (JSPS) and Alexander von Humboldt Foundation
1974
Ph.D. scholarship, Free University of Berlin
Presentations
September 11, 2014
Time and Culture. Time and Culture.
May 23, 2013 - May 25, 2013
November 10, 2011
November 16, 2004 - November 17, 2004
Welcome Speech. The Normative Core of Modernity and its Cultural Contextualization.
September 13, 2005 - September 14, 2005