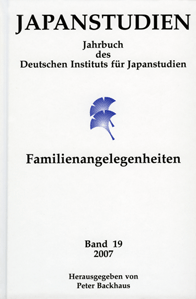 Details
2007, ISBN 978-3-89129-382-9, € 43,-, iudicium Verlag, München, 284 p.
[Order]
Authors
Reviews
Schaumayer, Andreas
Japanstudien 19 - Familieangelegenheiten ASIEN 100 (Januar 2009)
pp. 148-150

Japanstudien 19
Familienangelegenheiten (Family affairs)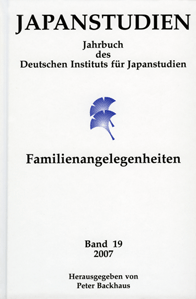 Volume 19 of the DIJ's annual journal Japanstudien is concerned with a topic that is directly related to the institute's present focus of research: the Japanese family. There is no doubt that Japan's current demographic trends, which are characterised by dropping birth rates and an ageing population, are in large part effected by the rapidly changing ways of how people live together. The contributions in this volume provide a variety of insights into Japanese family affairs and their demographic implications.
Content
Backhaus, Peter
Tsujimura, Natsuko: An Introduction to Japanese Linguistics
pp. 269-273
Heinrich, Patrick
Galan, Christian & Jacques Fijalkow (eds.): Langue, lecture et école au Japon
pp. 274-278
Germer, Andrea
Staat, Nation und Familie: Zum Verhältnis von Feminismus und Nationalstaat
pp. 21-48
Mae, Michiko; Schmitz, Julia
Zwischen Öffentlichkeit und Privatheit: Die moderne Familie in Japan
pp. 49-80
Hüstebeck, Momoyo
Die kulturelle Prägung des weiblichen Rollenverständnisses durch die Instrumentalisierung (neo)konfuzianischer Traditionen in Südkorea und Japan
pp. 81-104
Schad-Seifert, Annette
Japans Abschied von der Mittelschichtgesellschaft: Auflösung des Familienhaushalts oder Pluralisierung der Lebensformen?
pp. 105-128
Kruth,Jörg
Gedanken über die Zukunft der Familie in Japan – Eine Studie vorehelicher Partnerschaften
pp. 129-150
Tahhan, Diana Adis
Two Plus One Still Equals Two: Inclusion and Exclusion in the Japanese Family
pp. 151-168
Alexy, Allison
Deferred Benefits, Romance, and the Specter of Later-Life Divorce
pp. 169-188
Iles, Timothy
Families, Fathers, Film: Changing Images from Japanese Cinema
pp. 189-206
Vollmer, Klaus
Images of Japanese Society in the "New Civics Textbook": Neo-Nationalist Antidotes for Demographic Challenges and Social Change
pp. 221-224
Menkhaus,Heinrich
Spang, Christian W. & Rolf-Harald Wippich (Hg.): Japanese-German Relations, 1895–1945: War, Diplomacy and Public Opinion
pp. 245-250
Saaler, Sven
Krämer, Hans Martin: Neubeginn unter US-amerikanischer Besatzung? Hochschulreform in Japan zwischen Kontinuität und Diskontinuität 1919–1952
pp. 251-255
Spang, Christian W.
Hoppner, Inge & Fujiko Sekikawa (Red.): Brückenbauer: Pioniere des japanisch-deutschen Kulturaustausches
pp. 256-260
Weber, Torsten
Wang, Ping: Jindai Riben de Yaxiya zhuyi [Modern Japanese Asianism]
pp. 261-268

Vorwort
pp. 9-12
DIJ Projects