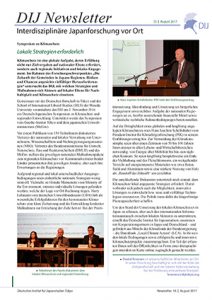 The current issue features a comprehensive report about the German-Japanese Symposium on climate change mitigation and regional development ("Deutsch-Japanisches Symposium zu Klimaschutz und regionaler Entwicklung") which was hosted in cooperation with the Embassy of Germany in Tokyo and the School of International Liberal Studies (SILS) at Waseda University.
In addition to that we also report on some of DIJ's other events from the recent past, present our latest publications and introduce one of our new employees.
As always, the DIJ Newsletter is available as PDF file and in print.