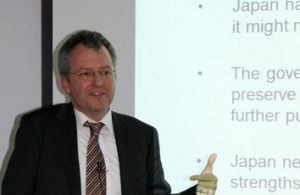 Audio
Download
Venue
Deutsches Institut für Japanstudien
Jochi Kioizaka Bldg. 2F
7-1 Kioicho, Chiyoda-ku
Tokyo 102-0094, Japan
Tel: 03 – 3222 5198, Fax: 03 – 3222 5420
Access
Registration Info
The lecture will be given in English. It will take place on Thursday, March 8th 2012 at 6.30 p.m. at the DIJ.
Admission is free but please register by email with: forum@dijtokyo.org
The Japanese Economy one Year after Fukushima
March 8, 2012 / 6.30 P.M.
On March 11, 2011, Japan was hit by the most severe natural and nuclear disaster in its history. How does the triple catastrophe bear on the Japanese economy today? The presentation will consider the economic recovery and look at the present situation in the most hit prefectures, before turning to the major challenges that Japan's economy is facing today. Special emphasis will be put on energy policy, government debt and the position of Japan in the world economy.
Dr. Franz Waldenberger is Professor for Japanese economy at LMU Munich. He held research and teaching positions at the University of Cologne, the German Monopoly Commission, the DIJ Tokyo, and Tsukuba University (Tokyo Campus). His major research interests are the Japanese economy and corporate governance.
Related Research Projects