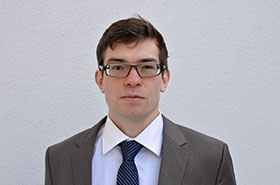 Michael Pfeifer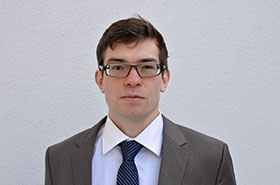 Law
Since July 2015
(PhD Students, July 1, 2015 - July 31, 2016)
Self-regulation and soft-law in Japanese corporate law
In modern corporate law, forms of private ordering, may they be described as self-regulation or soft-law, play an important role among the world's leading economies. In the context of a heated corporate governance debate, this trend has gained much attention in Japan recently and now attempts to change management structures and traditional management patterns in Japanese companies. They are thus perceived to be one means to overcome Japan's relative economic decline in the past two decades. My research project focuses on understanding the role of private and state actors involved in the increasing importance of private ordering in Japanese corporate law.  
Rules for companies to comply with are not longer stipulated exclusively by the state. Private actors play in various ways play an influential role as well. For example, in order to gain access to the country's primary capital market, Japanese companies are left little choice but to comply with the rules set by the Tokyo Stock Exchange (TSE), a (private) self-regulatory body. In contrast, the role of the Financial Service Association (FSA), the nation's most important regulatory authority for financial services etc. since 1998, is limited to supervision thereof. Under the influence of the so called "Japan Revitalization Strategy" (Nihon saikô senryaku) by the second cabinet under Prime Minister Abe Shinzô, the FSA has published the "Principles for Responsible Institutional Investors – Japan's Stewardship Code" in 2014 and, recently, together with the TSE "Japan's Corporate Governance Code", which came into force on the 1st of June this very year. What is peculiar to both codes is that they are not directly enforceable by the state but instead follow a "soft law" pattern relying on the compliance by the respective listed company or the institutional investors. The so called "comply-or-explain-principle" and the "principle-based-approach" underlying both codes are new to Japan, but have a long tradition in UK corporate law, from where they spread around the world as legal transplants. This kind of self-regulation has also attracted much attention by German scholars and practitioners with regards to the pros and cons, its legality and operating conditions following the introduction of a similar German Corporate Governance Kodex a decade earlier. Especially the last aspect, seeking to understand the determinations of successful self-regulation from a regulatory perspective, calls for a comparative analysis in the context of two equally developed economies which following the Japanese reception of German commercial law in the late 19th century share a common legal heritage, but are widely separated by cultural differences as well as recent economic performance.
Presentations
July 19, 2016
Corporate Governance Regulation by Comply-or-Explain as Seen from Soft Law and Self Regulation. Corporate Governance Regulation by Comply-or-Explain as Seen from Soft Law and Self Regulation.
CV
Since 08/2015
PhD student at German Institute for Japanese Studies Tokyo (DIJ) and Goethe University Frankfurt
04/2014-07/2015
Research associate at Goethe University Frankfurt
01/2014
Second State Examination (Law), Hamburg Higher Regional Court
12/2011-12/2013
Legal trainee at Hamburg Higher Regional Court
08/2011
First State Examination (Law), Hamburg
03/2010
Baccalaureus Legum (LL. B.), Bucerius Law School, Hamburg
09/2008-2011
Exchange student at Waseda Law School, Tokyo