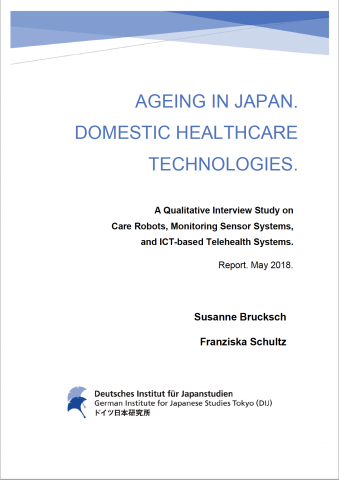 Download
Ageing in Japan. Domestic Healthcare Technologies
Details
2018, 64p.
Authors
Brucksch, Susanne
Schultz, Franziska
Ageing in Japan. Domestic Healthcare Technologies
A Qualitative Interview Study on Care Robots, Monitoring Sensor Systems, and ICT-based Telehealth Systems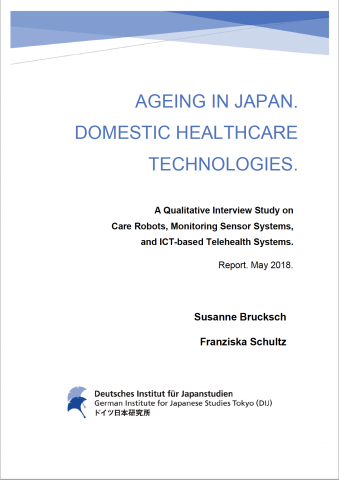 This report presents findings of a joint research project between the Leiden Asia Centre and the German Institute for Japanese Studies (DIJ). The project was initiated and financially supported by Leiden Asia Centre under their research scheme "Aging Japan: Leading the way into the future".
The project on "Ageing in Japan: Domestic Healthcare Technologies in Japan" was conceptualised and conducted at the German Institute for Japanese Studies (DIJ). DIJ also prepared this report, partially under its research scheme of "The Future of Local Communities in Japan. Risks and Opportunities in the Face of Multiple Challenges".
We are particularly grateful for the valuable comments on an earlier version of the manuscript by Professor Kasia Cwiertka, Professor Franz Waldenberger and Dr. Barbara Holthus. Our grateful thanks are extended to Dr. Michel H.C. Bleijlevens, Dr. Kazue Haga, Ms Rie Masuda, Ms Junko Sakurai, Ms Miki Akaike, Ms Josine Schouwstra and Ms Anne-Sophie König for giving advice or providing research assistance at various stages of the project. We also wish to acknowledge the great administrative support offered by Ms Elisabeth Jakubassa.
We would like to express our great appreciation to the following institutions and organisations for their assistance with the collection of our data or for allowing us to visit their workplaces or laboratories: Robot Safety Center, Mobilika, Panasonic Age Free, Sekisui House, Fukui Prefecture, Iida City and all the interlocutors, who shared their valuable expertise and knowledge, which greatly enhanced the research.
Current DIJ Projects