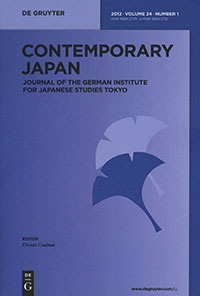 Details
2012, ISSN: 1869-2729, Mouton de Gruyter, Berlin and New York, 112 p.
[Order]
Contemporary Japan 24, No. 1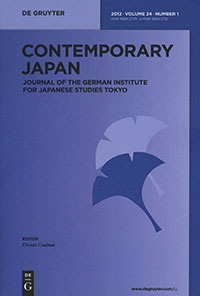 The first issue of Contemporary Japan in 2012 covers a variety of topics ranging from photography, film and TV-series over Japanese popular culture to questions regarding Japanese Democracy.
Nissim Kadosh Otmazgin examines the extent to which popular culture can change the perception of a country abroad. Based on questionnaire surveys conducted with university students from Hong Kong, Bangkok, and Seoul, he focuses on the appreciation shown to Japan's popular culture, and how it shapes young people's image of the country.
Andrea Germer examines the work of photographer Natori Yonosuke (1910-1962), the "godfather" of photojournalism in Japan. She traces Natori's personal and business connections in Weimar Germany – in particular with his Jewish colleagues and friends, and their critical political situation after the Nazis' rise to power.
Griseldis Kirsch takes up the widespread opinion that Japan fails to come to terms with its own wartime past while Germany is often seen as the model that Japan has to emulate, having penitently accepted responsibility. In her paper, she takes up the example of TV drama and compares the "memory" of the bombings of Dresden and Hiroshima as presented in two TV productions.
Ulrich Heinze explores the context and features of the national narrative as presented in Ishihara Shintarō's 2007 film Ore wa, kimi no tame ni koso shini ni iku ('I go to die for you') about kamikaze pilots in World War II. Using Yoshimi Shunya's idea of television consumption to a "national timetable" in postwar Japan, Heinze argues that rather than being purely nationalistic, Ore is largely autobiographical and nostalgic, and it feminizes the viewer.
Finally, Masaru Kohno advances a way of thinking about the quality of Japan's democratic polity by reviewing a set of constitutive attributes that define and contribute to its governing structure and processes. In particular, he highlights various aspects of "hybrid" institutions and their political consequences, including the coexistence of conflicting governing principles and the unusual procedure for the selection of the prime minister as stipulated in the constitution.
Content