Japanische Malerei aus der Sammlung Erwin von Baelz im Linden Museum Stuttgart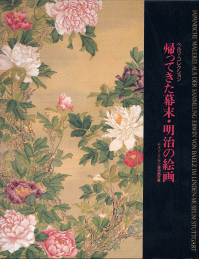 This catalogue compiled by the German Institute for Japanese Studies in August 1993 documents an exhibition organized in collaboration with the Linden-Museum Stuttgart and the Asahi Shimbun. It provides an introduction to 130 selected examples of late Edo and Meiji painting chosen from the nearly 6.000 items in the Baelz Collection. This collection has recently attracted special attention because it constitutes the largest collection of Japanese painting of this interim period, which is currently being reevaluated by the international community of art historians. The volume contains introductory
essays both in German and Japanese on Baelz's life, work, and Japanese studies and on the relevance of the exhibits for the arts. Contributors: K. Brandt, H. Krebs, J. Kreiner, J. Sasaki.
Content
クラウス・ブラント
シュトゥットガルト・リンデン博物館とベルツ・コレクションの歴史について
p.14-18
佐々木丞平; 佐々木正子
ベルツ・コレクション概説
p.19-24
Kreiner, Josef
ベルツ博士の日本研究とヨーロッパの日本観
p.121-125

年表、参考文献
p.126-129

出品リスト
p.130-142
ゲルハルト・クレープス
エルヴィン・フォン・ベルツ (1849-1913) -その一生と業績
p.8-13