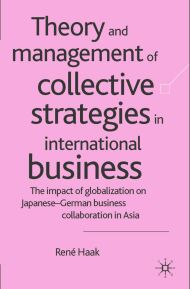 Details
2004, ISBN 1-4039-1127-4, £50.00, Palgrave, Basingstoke, New York, 206 pp.
[Order]
Theory and Management of Collective Strategies in International Business: The Impact of Globalization on Japanese-German Business Collaboration in Asia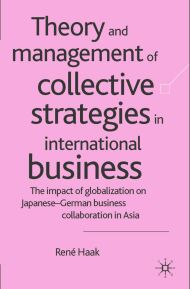 In the wake of globalization, international management has gained importance as a decisive element behind the success of a business enterprise. However, little is known about the collective strategies between two foreign firms in an overseas market. This book discusses the theory of collective international strategies and the adaptation of Japanese and German companies to the changing conditions of global competition arising from third market business cooperation. The author analyses the management style of Japanese-German business cooperation in Asia on a strategic and operative level, offers advice for the success of collective strategies and shows what we can learn from Japanese-German companies in Asian markets.