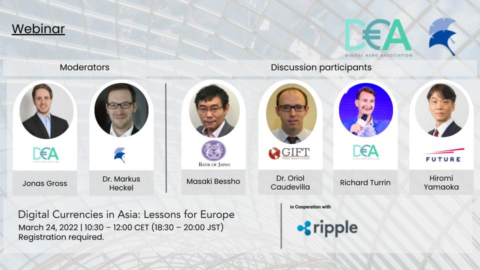 Download
Venue
Co-organizer
in cooperation with the Digital Euro Association
Registration Info
This is a past event. Registration is no longer possible.
---
Please subscribe to our DIJ Newsletter to stay informed about our research activities, events, and publications:
Digital Currencies in Asia: Lessons for Europe
March 24, 2022
Masaki Bessho, Bank of Japan
Oriol Caudevilla, Digital Euro Association
Richard Turrin, Consultant
Hiromi Yamaoka, Future Corporation
Moderated by Jonas Gross, Digital Euro Association and Markus Heckel, DIJ
A full video of the event is available on YouTube
Central banks around the world have stepped in and intensified their efforts to conceptualize and design their own digital currencies, i.e., central bank digital currencies (CBDCs), in particular, as a reaction to the increased competitive dynamics by the cryptocurrencies and stablecoins. Asia has a particular importance and critical leading efforts in this space with various Asian central banks assessing and experimenting with CBDCs. For instance, China has launched pilot programs and trials of its digital currency project e-CNY. Goals of the e-CNY include to provide a convenient, yet more efficient, resilient and secure retail payment system to increase financial inclusion and preserve monetary sovereignty. Further, fair competition and interoperability should be promoted. As another example, the Bank of Japan is in the proof of concept stage regarding their own digital currency. Additionally, the Japan Digital Currency Forum as a consortium of around 70 Japanese firms, including the country's three largest banks, is also working on a yen-based digital currency, tentatively called "DCJPY" for Japan's private sector to complement the central bank's efforts.
This joint webinar of the Digital Euro Association and the German Institute for Japanese Studies focused on various efforts in Asia around digital money, stablecoins and CBDCs, and addressed the following questions among others:
What is happening in Asia around digital money, stablecoins and CBDCs?
e-CYN project in China: What are the implications for Asia as well as for Europe?
DCJPY project and CBDC in Japan: What are the implications for Asia as well as for Europe?
What can Europe learn from these projects?
How and why do the design principles of various CBDCs differ across Asian countries?
Which insights do Asian CBDC projects provide for the design of a digital euro?
What are the recent regulatory developments around digital money in Asia?
How is the competitive vs complementary landscape shaped in different Asian economies between the CBDCs and private digital money?
Speakers
Moderators
Jonas Gross (Chairman, Digital Euro Association)
Markus Heckel (Senior Research Fellow, German Institute for Japanese Studies (DIJ))
Agenda
10:30 – Welcoming address (Markus Heckel, German Institute for Japanese Studies (DIJ))
10:35 – Presentations by Masaki Bessho, Richard Turrin, and Hiromi Yamaoka
11:15 – Panel discussion "Digital Currencies in Asia: Lessons for Europe" (Moderator: Jonas Gross, Digital Euro Association (DEA))
11:45 – Q&A
12:00 – End of webinar