イベント&アクティビティ
DIJ-Direktor Franz Waldenberger im Radio-Interview zur japanischen Schuldenpolitik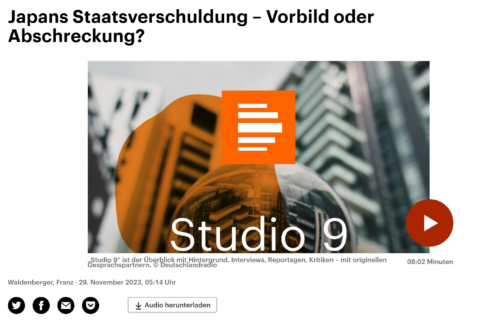 Japan gilt als Industrieland mit der höchsten Staatsverschuldung: die pro-Kopf-Verschuldung liegt mehr als doppelt so hoch verglichen mit Deutschland. Kann Deutschland von Japan beim Schuldenmachen lernen? Im Interview mit Deutschlandfunk Kultur erklärte DIJ-Direktor Franz Waldenberger, dass die expansive  Finanzpolitik Japans nicht den Haushalt aufgebläht habe, sondern dadurch in Japan besonders unpopuläre Steuererhöhungen vermieden werden konnten. Außerdem habe es ökonomisch sinnvolle Gründe für die Verschuldung gegeben, wie das niedrige Zinsniveau, die hohe Sparquote und eine Stimulation der Inlandsnachfrage. Für Deutschland empfahl Waldenberger eine möglichst pragmatische Herangehensweise an das Schuldenmachen. Das Interview kann hier nachgehört werden.
DIJ Alumni Meeting at VSJF Conference in Berlin
During this year's annual conference of the German Association for Social Science Research on Japan (VSFJ) in Berlin, 14 current and former DIJ employees met for an alumni dinner. The photo shows (from left to right): Cosima Wagner, Isa Ducke, Elisabeth Köller, Ruth Achenbach, Michaela Oberwinkler, Gabriele Vogt, Ursula Flache, Momoyo Hüstebeck, Helmut Demes, Harald Conrad, Barbara Holthus, Hanns Günther Hilpert, Phoebe Holdgrün, and Axel Klein. At the conference's sections meetings, several DIJ researchers and alumni gave research presentations, including current deputy director Barbara Holthus on animal abuse and PhD student Jasmin Rückert on photo albums of Japanese soldiers as well as alumni Michaela Oberwinkler (Düsseldorf) on emoji in digital communication, Steve R. Entrich (Duisburg-Essen) on effects of transnational experiences on the Japanese labour market, and Carola Hommerich (Sophia University) on changing attitudes towards environmental problems and climate change.
Japan-Stipendien für Promovierende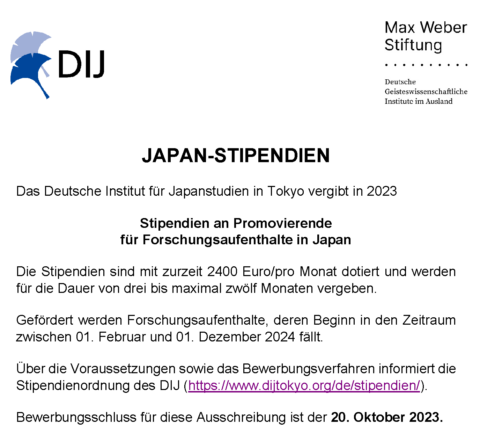 Für das Jahr 2024 vergibt das DIJ wieder attraktive Stipendien zur Förderung von Forschungsaufenthalten in Japan im Rahmen von Promotionsvorhaben. Die Stipendien sind mit zurzeit 2400 Euro/Monat dotiert und werden für die Dauer von drei bis maximal zwölf Monaten vergeben. Gefördert werden Forschungsaufenthalte, deren Beginn in den Zeitraum zwischen 1. Februar und 1. Dezember 2024 fällt. Über die Voraussetzungen sowie das Bewerbungsverfahren informiert unsere Stipendienordnung. Bewerbungsschluss für diese Ausschreibung ist der 20. Oktober 2023.
Max Weber Foundation delegation meets Tokyo Governor Koike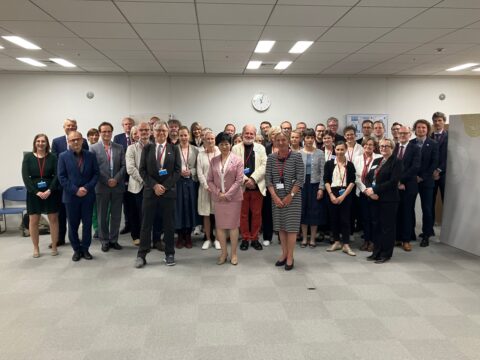 A delegation of the Max Weber Foundation, led by DIJ director Franz Waldenberger and the Foundation's president Ute Frevert, was met by Tokyo Metropolitan Governor Yuriko Koike on May 10th. Governor Koike welcomed the group and shared her ideas about how to tackle the challenges faced by Tokyo, Japan, and Germany, including demographic change, migration, climate change, and gender equality. Drawing on her own experience of studying abroad, Koike also emphasized the importance of international academic exchange facilitated by organizations such as the Max Weber Foundation. The Foundation runs eleven academically autonomous institutes in Europe, the Middle East, the United States, India, and the DIJ in Tokyo. The delegation is currently staying in Tokyo for the International Conference Transnational Research in a Multipolar World and further meetings of the Foundation's bodies.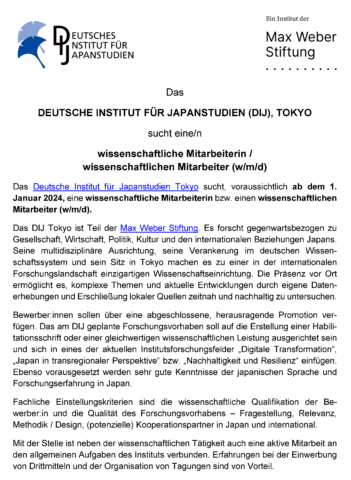 Das DIJ sucht eine wissenschaftliche Mitarbeiterin / einen wissenschaftlichen Mitarbeiter (w/m/d) mit einer abgeschlossenen, herausragenden Promotion, sehr guten Kenntnissen der japanischen Sprache und Forschungserfahrung in Japan. Das am DIJ geplante Forschungsvorhaben soll auf die Erstellung einer Habilitationsschrift oder einer gleichwertigen wissenschaftlichen Leistung ausgerichtet sein und sich in eines der aktuellen Institutsforschungsfelder "Digitale Transformation", "Japan in transregionaler Perspektive" bzw. "Nachhaltigkeit und Resilienz" einfügen. Die Stelle ist auf drei Jahre befristet, mit einer Verlängerungs­möglichkeit um weitere zwei Jahre. Sie ist voraussichtlich ab Januar 2024 zu besetzen. Bewerbungsfrist ist der 31. August 2023. Die Ausschreibung und Details finden Sie hier.
Wir trauern um Professor Hans-Joachim Kornadt
Das DIJ trauert um Professor Dr. Dr. h.c. Hans-Joachim Kornadt, der am 24. April 2023 im Alter von 95 Jahren verstorben ist. Professor Kornadt war von 1968 bis zu seiner Emeritierung im Jahr 1995 Professor für Pädagogische Psychologie und Erziehungswissenschaft an der Universität des Saarlandes. Er hat die Arbeit unseres Instituts als Mitglied und später als Vorsitzender des wissenschaftlichen Beirats in den ersten sieben Jahren (1988 – 1995) mit seiner Expertise wesentlich unterstützt. Über diese Zeit hinaus begleitete er unsere Arbeit mit wohlwollendem Interesse. Für seine Verdienste, unter anderem um die deutsch-japanischen Wissenschaftsbeziehungen, wurden Professor Kornadt im Jahr 1988 der Deutsch-Japanische Forschungspreis und 2006 das Bundesverdienstkreuz Erster Klasse verliehen.
DIJ deputy director meets Federal Minister Cem Özdemir
On April 25, DIJ deputy director Barbara Holthus participated in an exchange between Cem Özdemir, Federal Minister of Food and Agriculture, and Toru Nakaya, president of the Japanese Central Union of Agricultural Co-operatives. Özdemir had made a brief stop in Tokyo on his way back to Germany after participating in the G7 Agriculture Ministers' Meeting in Miyazaki. On April 20, Barbara Holthus and DIJ administrative director Elisabeth Köller had met Christa Nickels, former Federal Minister of Health, for a discussion about women in Japanese politics. Nickels came to Japan for the opening of the German film festival Horizonte 2023 which featured the film "Die Unbeugsamen" (The Unbending). The film portrays several female politicians during the so-called Bonn Republic, including Nickels.
DIJ-Ökonom Markus Heckel kommentiert Wechsel an Notenbankspitze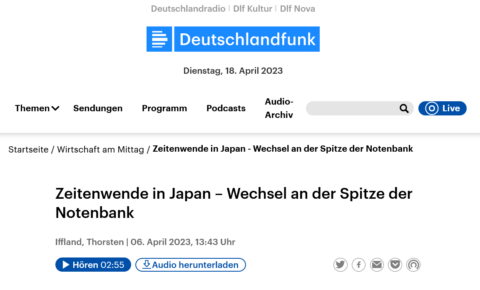 Was ist die Bilanz von über zehn Jahren, die Kuroda Haruhiko Chef der japanischen Notenbank war und was ist von seinem Nachfolger Ueda Kazuo zu erwarten? DIJ-Ökonom Markus Heckel hat den Wechsel an der Spitze der Bank of Japan im Interview mit dem Deutschlandfunk kommentiert. "Die ersten Jahre unter Kuroda sehen wir sehr positiv", erklärt er, "aber mit dem Wechsel zu einer Kontrolle der langfristigen Zinsen sind diese positiven Effekte nicht mehr zu sehen." Die Stärke der zukünftigen Bank of Japan wird es sein, so Heckel, dass sie unter Ueda unabhängiger agieren kann, weniger auf Beeinflussung reagieren und ihre Politik anhand von Daten ausrichten wird. Den gesamten Beitrag können Sie hier nachhören.