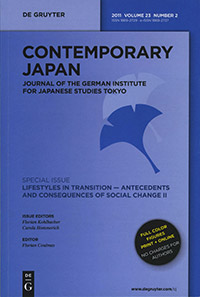 Details
2011, Mouton de Gruyter, Berlin and New York
[Order]
Authors
Kohlbacher, Florian
Hommerich, Carola
Contemporary Japan 23, No. 2
Lifestyles in Transition - Antecedents and Consequences of Social Change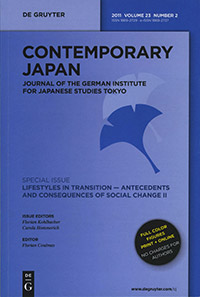 Numerous experts have pointed out the rapid changes that Japanese society has been undergoing in the past few decades (see, among others, Coulmas 2007; Kingston 2011; Sugimoto 2009; Yamada 2004). While all societies change, "the pace and scope of change in Japan has been staggering and deeply unsettling in many ways for its citizens" (Kingston 2011: 20). Many of these changes are reflected in both the transformation of individual lifestyles and in Japan's changing social reality.
For Volume 23 of Contemporary Japan the editors invited papers that cover diverse facets of a pluralization of lifestyles witnessed in Japan in recent years. In addition to dramatic socio-economic changes, Japan is undergoing a shift from "solid" to "liquid" modernity (Bauman 2007) in which frames of reference for life planning and individual action have become blurred and multiplied.
The two issues approach the topic of lifestyles in transition from various angles. Themes covered in Issue 1 indicate the scope of the subject matter and the multiplicity of areas where these transitions can be witnessed. The five papers, nevertheless, share a common analytical frame relating to struggles in identity formation and life design solidification in times of change and liquidization. Issue 2 focuses on changing lifestyles in relation to work and employment. The contributions to the second issue cover labor economics and institutional employment practices as well as popular culture/poetry and gender studies. The research methodologies are equally varied and include large sample surveys of individuals, content analysis of poetry and qualitative interviews.
Content