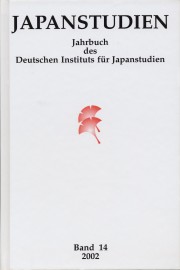 Details
2002, ISSN 0938-6491, iudicium Verlag, Munich, 403 p.
[Order]
Authors
Günther, Ines
Koch, Matthias
Japanstudien 14
Japan als Fallbeispiel in den Wissenschaften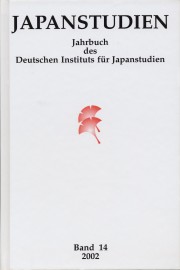 Volume 14 of the DIJ yearbook Japanstudien [Japanese Studies], published in December 2002, focuses on the topic "Japan in a Paradigmatic Perspective." Japan seems to be of special interest for studies in the humanities, social sciences and  economics; it has been one of the most frequently used countries for comparative studies over the past decades. In the past, when it was time to create and formulate general notions, theses and theories in the above-mentioned disciplines, the point of reference taken was the so-called "Western" example. In that sense, the underlying question in this DIJ yearbook is whether and to what degree Japanese studies, i.e., research on Japan, can contribute to the development of the humanities and social sciences and the general formation or modification of models and theories. In addition to ten essays contributing to the main focus of this volume from the perspective of sociology, anthropology, history, political science, law, economics, cultural studies and gender studies, linguistics and literature studies there is one miscellaneous article as well as ten reviews of recent books published in English, French, German and Japanese.
Content
Ando, Junko
ドナルド・キーン著[Keene, Donald]、角地幸男訳『明治天皇』[Der Meiji-Tennō]下・上.東京:新潮社 2001. 556, 582 S., ¥3200
p.339-343
Wippich, Rolf-Harald
Sprotte, Maik Hendrik: Konfliktaustragung in autoritären Herrschaftssystemen: Eine historische Fallstudie zur frühsozialistischen Bewegung im Japan der Meiji-Zeit. Marburg: Tectum-Verlag, 2001. 408 S., € 25,90
p.344-348
Stalph, Jürgen
村谷才一・三浦雅士・鹿島茂選者『千年紀のベスト100作品を選ぶ』 [Die hundert besten Werke des vergangenen Jahrtausends]東京:講談社、2001. 252 S.,¥ 2000
柄谷行人[ほか]著『必読書150』 [150 Mußlektüren]東京:大田出版、2002. 223 S., ¥ 1200
p.349-355
Heinrich, Patrick
Galan, Christian: L'enseignement de la lecture au Japon: Politique et l'éducation. Toulouse: Presses Universitaires du Mirail, 2001. 361 S., € 21,35
p.356-361
Wachutka, Michael
子安宣邦監修、『日本思想史辞典』[Wörterbuch der japanischen Geistesgeschichte] 東京:ぺりかん社 2001. iii+14+648 S., ¥ 6800
p.362-367
Kreitz-Sandberg, Susanne
Richter, Steffi und Annette Schad-Seifert (Hg.): Cultural Studies and Japan. Mitteldeutsche Studien zu Ostasien, 3. Leipzig: Leipziger Universitätsverlag, 2001. 128 S., € 29,50
p.368-375
Rohde, Miriam
Shapiro, Jerome F.: Atomic Bomb Cinema: The Apocalyptic Imagination on Film. New York, London: Routledge, 2002. 386 S., US$ 24,95
p.376-381
Flüchter, Winfried
George Mulgan, Aurelia: The Politics of Agriculture in Japan. Nissan Institute, Routledge Japan Studies Series. London, New York: Routledge, 2000. 856 S., £ 85
p.382-386
Koch, Matthias
岡崎久彦、佐藤誠三郎『日本の失敗と成功 - 近代160年の教訓』[Niederlagen und Erfolge Japans - Lehren aus 160 Jahren Moderne] 東京:扶桑社 2000. 284 S., ¥ 1619
p.387-394

ZU DEN AUTOREN DIESES JAHRBUCHES
p.395-
Hijiya-Kirschnereit, Irmela
Vorwort [Foreword]
p.11-16
Hijiya-Kirschnereit, Irmela
Griesecke, Birgit: Japan dicht beschreiben: Produktive Fiktionalität in der ethnographischen Forschung. Übergänge: Texte und Studien zu Handlung, Sprache und Lebenswelt, hrsg. von Wolfgang Eßbach und Bernhard Waldenfels. München: Fink, 2001. 213 S., € 25,20
p.331-338