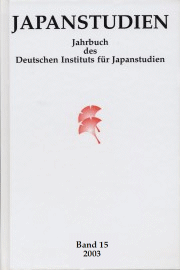 Details
2003, ISBN 3-89129-378-X, € 45,-, iudicium Verlag, Munich, 359 p.
[Order]
Authors
Dolles, Harald
Ducke, Isa
Japanstudien 15
Mißverständnisse in der Begegnung mit Japan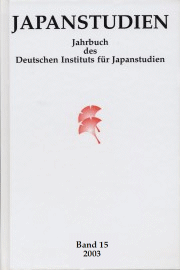 Volume 15 of the DIJ yearbook Japanstudien was published in December 2003. Its focus topic is "Misunderstandings in the Encounter with Japan." The aim was to analyze the appearance as well as the solution and consequences of misunderstandings in the encounter with Japan. The underlying assumption was that both in the encounter between Japan and other countries, and within Japan herself, different forms of perception, thinking, feeling, and behavior may collide and that an erroneous perception of the message and its contextual signals can thus lead to misunderstandings. The volume includes seven articles on the focus topic – apart from the introduction -, which can be grouped into the following four thematic blocks: discourses of self-representation, discourses in history, cases from communication and encounter, and micro- and macroeconomic aspects. In addition, the volume includes two miscellaneous articles and reviews of eight books.
Content
Hijiya-Kirschnereit, Irmela
Vorwort (Foreword)
p. 9-14
Flache, Ursula
Von den "Dos and Don'ts" - Drei Reise-Knigge für Japan (On the "Dos and Don'ts" - Three Travel Etiquette Guides to Japan)
Thiede, Ulrike: Reisebegleiter Japan: Was man über Japan und die Japaner wissen sollte
Thomas, Gothild, and Kristina Thomas: Reisegast in Japan
Norbury, Paul: Culture Smart! Japan
pp. 317-325
Germer, Andrea
Das Leiden an der Kultur (Suffering from Culture)
Graefe, Ayako: Doitsu no haha o kaigo shite [Caring for My German Mother(-in-Law)]
Neumann, Christoph: Darum nerven Japaner: Der ungeschminkte Wahnsinn des japanischen Alltags
Coulmas, Florian: Die Deutschen schreien: Von einem, der aus dem Land des Lächelns kam
pp. 326-336
Koch, Matthias
Seifert, Wolfgang, and Claudia Weber (eds.): Japan im Vergleich
pp. 337-348
Stalph, Jürgen
Katō Hidetoshi and Kumakura Isao (eds.): Gaikokugo ni natta Nihongo no jiten [A Dictionary of Japanese Internationalisms]
pp. 349-352