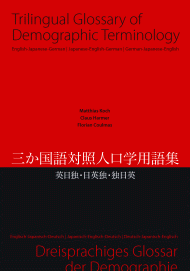 Details
2007, ISBN: 978-9004154-76-6, € 149 / US$ 245 / ¥ 28,090, Brill, Leiden, Boston, x, 924 p.
Trilingual Glossary of Demographic Terminology: English-Japanese-German, Japanese-English-German, German-Japanese-English.『三か国語対照人口学用語集 英日独・日英独・独日英』Dreisprachiges Glossar der Demographie: Englisch-Japanisch-Deutsch, Japanisch-Englisch-Deutsch, Deutsch-Japanisch-Englisch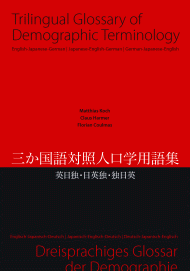 This glossary is an up-to-date research tool for population studies in English, Japanese and German. Based on the technical literature, encyclopaedias, databases and existing glossaries in the three languages listed as well as other relevant languages in which demographic research is carried out, it comprises more than 7,500 technical terms accessible in three directions: English-Japanese-German, Japanese-English-German and German-Japanese-English.
Scientific fields covered include social demography, population geography, political demography, economic demography, historical demography, medical demography, biodemography, mathematical demography, as well as some adjacent fields such as psychology, law, technology, religion, linguistics and education. This wide range of disciplines testifies to the fact that population dynamics have implications for scientific research beyond the narrow confines of formal demography (pure demography). Because of social ageing, falling birth rates and population decline in most industrialised countries, population-driven changes are felt in many areas. The result is a proliferation of terminology. During the past two decades, many new terms have been coined in the various disciplines and in the three languages dealt with here, often without any attempt at coordination or standardisation.
It is the purpose of the authors with this glossary to present the evolving nomenclature in the population sciences including recent lexical innovations and thus provide a state-of-the-art terminological link between the three languages. Each term included in the glossary was checked for accuracy and contextual appropriateness. In many cases one term in one language corresponds to two or several terms in the other two languages. Where alternative or rival terms are in currency, the order of listing reflects frequency of occurrence. English and German entries are arranged in alphabetical order, Japanese entries in the conventional aiueo order of Japanese lexicography.

Comments and suggestions for additional entries to be included in future editions, addressed to demogloss@dijtokyo.org will be greatly appreciated.
Current DIJ Projects