Audio
Download
Veranstaltungsort
Deutsches Institut für Japanstudien
Jochi Kioizaka Bldg. 2F
7-1 Kioicho, Chiyoda-ku
Tokyo 102-0094, Japan
Tel: 03 – 3222 5198, Fax: 03 – 3222 5420
Zugang
Anmeldung
The lecture will be given in English. It will take place on Thursday, April 17th 2008 at 6.30 p.m. at the DIJ.
Admission is free, space is limited, so please register with Ms. Dinkel at the DIJ.
Beyond Bush: Japan and Germany in the American Imperium
17. April 2008 / 18:30
Peter J. Katzenstein, Professor, Cornell University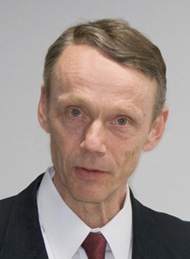 Japan and Germany are regional pivots in the American imperium. For half a century their special position has strengthened an American imperium, which exercises its power both through traditional territorial and novel non-territorial forms of power. Was the Bush administration and its preference for unilateral forms of exercising power an aberration from a system of rule that relied on regional pivots or has it initiated a new American diplomacy to which Japan and Germany will have to adjust?

Peter J. Katzenstein is the Walter S. Carpenter, Jr. Professor of International Studies at Cornell University. His research and teaching lie at the intersection of the fields of international relations and comparative politics. He is the author, co-author, editor or co-editor of over 30 books and over 100 scholarly articles and book chapters addressing a broad range of economic, security and cultural issues in world politics. His most recent work has focused on Japanese security policy, regional politics, anti-Americanism, religion, and America as a civilizational imperium. Recipient of numerous awards and prizes, Katzenstein was elected to the American Academy of Arts and Sciences in 1988 and is currently the president-elect of the American Political Science Association. Since joining the Cornell Government Department in 1973 Katzenstein has chaired or been a member of more than one hundred dissertation committees. He received Cornell's College of Arts and Science Stephen and Margery Russell Distinguished Teaching Award in 1993, and, in recognition of sustained and distinguished undergraduate teaching, was made one of Cornell University's Stephen H. Weiss Presidential Fellows in 2004.