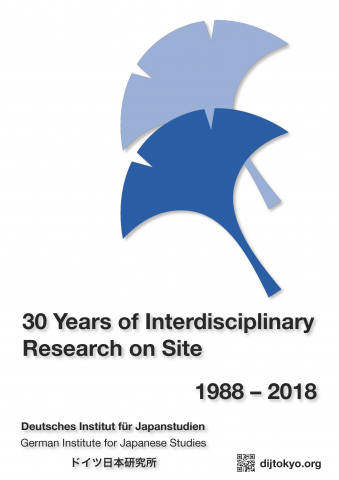 Download
30 Years Interdisciplinary Research on Site. 1988 – 2018
Einzelheiten
2018, 93 p.
Autoren
Eichelberg, Sven
Holthus, Barbara
30 Years Interdisciplinary Research on Site. 1988 - 2018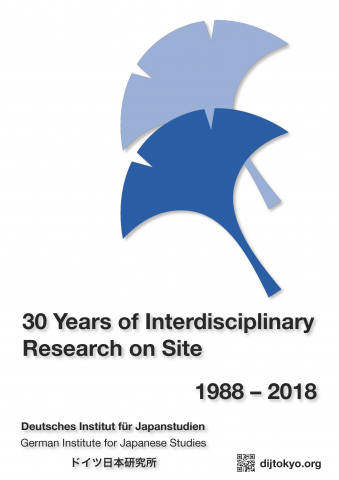 This publication gives an overview of the past 30 years here at the DIJ, including kind greetings from Hans Carl von Werthern (Ambassador of the Federal Republic of Germany in Japan), Yuriko Koike (Governor of Tokyo), Mitsuo Makino (Mayor of Iida City), Cécile Sakai (Director of the French Research Institute on Japan at Maison franco-japonaise) and Hans van Ess (President of the Max Weber Foundation).
The booklet is available as PDF download. In case you prefer to order a physical version, please contact us.
Grußworte
Hans Carl von Werthern, Botschafter der Bundesrepublik Deutschland in Japan

5
Yuriko Koike, Gouverneurin von Tokyo

7
Mitsuo Makino, Bürgermeister der Stadt Iida, Präfektur Nagano

9
Cécile Sakai, Direktorin des Institut Français de Recherche sur le Japon à la Maison franco-japonaise

11
Hans van Ess, Präsident der Max Weber Stiftung

12
祝辞
在日ドイツ大使 ハンス・カール・フォン・ヴェアテルン

14
マックス・ヴェーバー財団 理事長 ハンス・ファン・エス

21
Greetings
Hans Carl von Werthern, Ambassador of the Federal Republic of Germany in Japan

23
Yuriko Koike, Governor of Tokyo

25
Mitsuo Makino, Mayor of Iida City, Nagano Prefecture

27
Cécile Sakai, Director of the French Research Institute on Japan at Maison franco-japonaise

29
Hans van Ess, President of the Max Weber Foundation

30
Rückblick und Ausblick
Josef Kreiner: Das DIJ wird 30 – Erinnerungen an die frühen Anfänge

35
Franz Waldenberger: Das DIJ in Tokyo auch mit 30 Jahren voller Tatendrang

38
回顧と展望
ヨーゼフ・クライナー:DIJ 設立30周年を迎えて ~設立当時の思い出~

42
フランツ・ヴァルデンベルガー:設立30周年ドイツ日本研究所のやる気

46
Reflecting Back and Looking Forward
Josef Kreiner: The DIJ Tokyo turns 30—revisiting the origins

50
Franz Waldenberger: The DIJ Tokyo: 30 years on and still thriving

53
30 Years DIJ