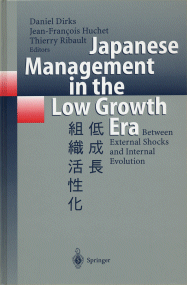 Einzelheiten
1999, ISBN 3-540-64035-5, Springer Verlag, Berlin et al., 448 S.
Autoren
Dirks, Daniel
Huchet, Jean-François
Ribault, Thierry
Japanese Management in the Low Growth Era: Between Shocks and Internal Evolution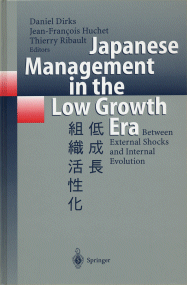 Japanese firms are in the midst of the most protracted economic crisis in their post-war history. The end of the "bubble economy" has led to a long era of low growth. This change in the general business environment has profound consequences for the management and the organization of corporate Japan, as well as for the theory of the Japanese firm. The contributions to this book cover a broad range of subjects, from the strategies and organizational structures of firms to their management of human resources and innovation processes in the 1990s. These changes are systematically commented on by field specialists from abroad, especially Europe, relating the situation in Japan to comparable developments in other countries.
Inhalt
Jaussaud, Jacques
Commentary
S.291-294
Ribault, Thierry
Flexible Employment in Japanese Retailing. Toward a Just-in-time Employment Management
S.295-312
Tremblay, Diane-Gabrielle
Commentary: Flexible Employment in Japanese Retailing. Comparisons with Canada and Questions Concerning the Segmentation Theory
S.313-322
Hemmert, Martin
Japanese Corporate R&D in the 1990s. Change and Continuity
S.325-347
Humbert, Marc
Commentary: Japanese R&D Management Practices. The Globalization Challenge
S.349-356
Kusunoki, Ken
The Phase Variety of Product Systems and System-Based Differentiation: An Alternative View on Organizational Capabilities of the Japanese Firm for Product Innovation
S.357-375
Werder, Axel v.
Commentary: System-Based Differentiation in Japanese Firms. Comments from a German Perspective
S.377-385
Fujimoto, Takahiro
Transformation of the Japanese Management System: A Contingency View
S.389-407
Boyer, Robert
Will Japanese and French "Exceptionalisms" Vanish? The Convergence Hypothesis Reconsidered
S.409-424
Dirks, Daniel; Huchet, Jean-François; Ribault, Thierry
Managing in a Low Growth Era - The End of Managerial Idiosyncrasies?
S.1-11
Yui, Tsunehiko
Japanese Management Practices in Historical Perspective
S.13-18
Teramoto, Yoshiya; Iwasaki, Naoto; Takai, Tōru
Role of Inter-organizational Networks. The Case of Japanese Corporate Groups
S.37-58
Ernst, Dieter
Commentary: Externalization and Inter-organizational Networks. How Globalization Transforms the Japanese Model
S.59-71
Tachiki, Dennis S.
Modes of Corporate Internationalization. Japanese FDI Strategies in Asia-Pacific
S.73-89
Molteni, Corrado
Japanese Companies in Europe. Their Strategies and Management Practices
S.91-107
Grefermann, Klaus
Commentary
S.109-118
Miyajima, Hideaki
Presidential Turnover and Performance in the Japanese Firm: The Evolution and Change of the Contingent Governance Structure under the Main Bank System
S.121-144
Estienne, Jean-François
Corporate Pension Schemes, Corporate Pension Governance, and State (De-) Regulation in Japan
S.145-160
Watanabe, Shigeru
After Quasi-LBO Discipline. A Historical Reflection on Japanese Corporate Governance
S.161-174
Richet, Xavier
Commentary: From Voice to Exit? Corporate Finance Management and Corporate Governance
S.175-180
Lecler, Yveline
Recession and Globalization. What Future for Japanese Industrial "Keiretsu"?
S.183-205
Watanabe, Susumu
A Changing Image of Japanese Small Entrepreneurs
S.207-227
Lung, Yannick
Commentary: A New Step in the Evolution of Japanese Industrial Networks?
S.229-239
Nohara, Hiroatsu
Human Resource Management in Japanese Firms Undergoing Transition. A Hierarchical Approach
S.243-262
Jaussaud, Jacques
Commentary
S.263-266
Dirks, Daniel
Limits and Latitude of Labour Adjustment Strategies in Japanese Companies
S.267-289
Yoshimura, Norihisa; Ueno, Yasuhiro; Kagono, Tadao
Externalization of Organizations and the Dual Governance Structure
S.21-35