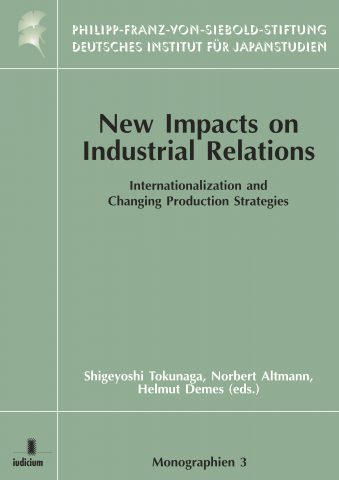 Einzelheiten
1992, ISBN 3-89129-483-2, € 50,50, iudicium Verlag, München, 492 S., geb.
[Bestellen]
Autoren
Demes, Helmut
Tokunaga, Shigeyoshi
Altmann, Norbert
New Impacts on Industrial Relations: Internationalization and Changing Production Strategies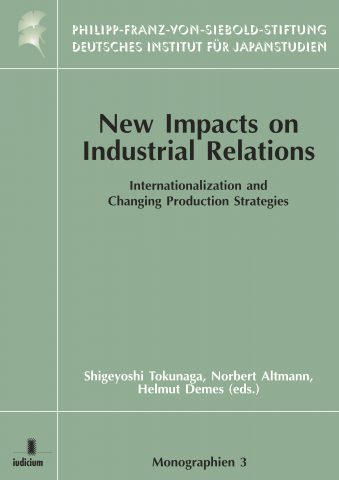 New production concepts such as lean production, as well as the internationalization of enterprises and national economies deeply influence industrial relations and labour standards worldwide. The twenty-one contributions in this book focus on these new impacts on industrial relations, in particular in Japan and Germany. They are the proceedings of an international conference held in Japan in autumn 1991.
The contributions are grouped into five sections:


Production Strategies and Industrial Relations in the Process of Internationalization

Internationalization and Industrial Relations

Subcontracting and Rationalization

Towards the Formation of Labour Standards

Concluding Remarks
Inhalt
Jürgens, Ulrich
Internationalization Strategies of Japanese and German Automobile Companies
S. 63-96
Takagi, lkurō
The Formation of Rengō and Strategies of the Japanese Labour Movement for the Development of Labour Standards
S. 453-466
Demes, Helmut
The Japanese Production Mode as a Model for the 21st Century?
S. 469-488

Contributors to this Volume
S. 489-492
Tokunaga, Shigeyoshi
Internationalization of Economic Activities and Industrial Relations: with Special Reference to the Recent Strategies of Large japanese Corporations
S. 39-59
Kumazawa, Makoto
Industrial Relations and Management in Japanese Companies in Europe
S. 97-115
Nomura, Masami
Japanese Personnel Management Transferred: Transplants of the Electronic Industry in Asia and Europe
S. 117-132
Deutschmann, Christoph
Works Councils and Enterprise-Level Industrial Relations in German Transplants of Japanese Firms
S. 133-147
Berggren, Christian; Björkman, Torsten
Contradictions in the Team Concept: Auto Transplants and Labour Relations in North America
S. 149-177
Sauer, Dieter
Systemic Rationalization, Subcontracting Strategies and their Impact on Labour in the Federal Republic of Germany
S. 181-205
Ikeda, Masayoshi
Development Networks in the Automobile Industry: New Trends
S. 207-224
Hiramoto, Atsushi
Subcontracting Strategies of Japanese Companies in Europe and Asia: A Case Study of the Electronics Industry
S. 225-242
Doleschal, Reinhard
Problems of Industrial Relations at Plant Level in the Component Supply Industry in the Federal Republic of Germany
S. 243-257
Sei, Shōichirō
Price Setting and Supplier Selection System in the Japanese and Western Auto-Supply Industry
S. 259-278
Sengenberger, Werner
Labour Standards in the International Economy: Challenges and Perspectives
S. 281-309
Bosch, Gerhard
The Formation of Labour Standards in the Single Market
S. 311-339
Kreißig, Volkmar
The German Unification Process and the Organization of Trade-Union and Co-Determination Structures in East Germany
S. 341-364
Capecchi, Vittorio
The Role of Unions in Innovative Small and Medium-sized Enterprises: A Case Study of Flexible Specialization in Emilia-Romagna
S. 365-392
Tamai, Kingo
Working Conditions in Small and Medium-sized Enterprises in Japan: The Case of Ōsaka
S. 393-409
Ōsawa, Mari
Women and Japanese Society Today: Political Measures with Respect to Marginalized Labour Force
S. 411-431
Ernst, Angelika
The Careers of Technical Specialists in Japan and in Western Countries
S. 433-451
Altmann, Norbert
Convergence of Rationalization - Divergence of Interest Representation
S. 15-38