---
Please subscribe below to stay informed about our research activities, events, and publications:
Gender and Sexuality in East Asia – Cultural Studies and Social Science Perspectives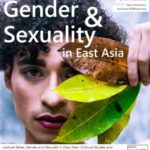 June 9, 2020 – ongoing
Organisation: Barbara Geilhorn, Nora Kottmann
This lecture series sets out to explore Gender and Sexuality in East Asia from a cultural studies and social science perspective. It is structured as a set of three online lectures to be later followed by a DIJ forum and a film screening and subsequent talk with the producer and one protagonist. Topics that will be addressed are: Sexualities and migration, 'new' masculinities, 'new' life courses for women, gender constructions in film and literature, bodies and postfeminism.
Join us to discuss these issues with internationally established scholars!
Forthcoming, date t.b.a., Masculinity and Bodyweight Control in Contemporary Japan (Genaro Castro Vázquez, Kansai Gaidai University) and Urged to Shine: Japanese Women Maneuvering in the Time of Postfeminism (Hiroko Tanaka, Nagoya University), DIJ Forum
2022
November 17, 2022
Film Stardom and Representation: Takamine Hideko and Women in Post-War Japan
Till Weingärtner, University College Cork, Ireland
July 22, 2022
The Taboo of All Taboos: Regretting Motherhood in Japan
Forum Mithani, Cardiff University & Waseda University
March 16, 2022
Ryokan: Mobilizing Hospitality in Rural Japan
Chris McMorran, National University of Singapore
2021
October 20, 2021
From learning good manners to training one's own apprentices: Female rakugo performers on Tokyo's stages
Sarah Stark, University of Ghent
September 30, 2021
Touching the Unreachable: Love of the Object and of the Self through Kawabata
Fusako Innami, Durham University
September 7, 2021
Mobile professionals and their families: The making of transnational spaces in Tokyo from a male perspective
Sakura Yamamura, Max Planck Institute for the Study of Religious and Ethnic Diversity
June 23, 2021
Croft, Quiet, and Kantai Collection: Female Bodies in Japanese Videogames
Rachael Hutchinson, University of Delaware
2020
September 12, 2020
Film screening and discussion with the film's producer Ian Thomas Ash and one protagonist: Boys for Sale
July 9, 2020
Murata Sayaka's Convenience Store Woman
Discussing Gender Identity and Society in Contemporary Japanese Literature
Ronald Saladin, Trier University
June 25, 2020
Cute Masculinity - Investigating the Meaning of Virtual Shōjo and Girl Parody by Young Men in the 2010s
Sharon Kinsella, The University of Manchester
June 9, 2020
Towards a Transnational Sexual Field: Male Vietnamese Migrants in Contemporary Japan
An Huy Tran, University of Duisburg-Essen/Waseda University