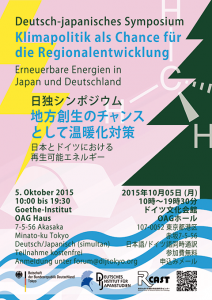 Download
Reports
Venue
Goethe-Institut Tokyo / OAG Haus
7-5-56 Akasaka
Minato-ku Tokyo-to 107-0052
Access
Co-organizers
Symposium organisiert von der Deutschen Botschaft Tokyo, dem Research Center for Advanced Science and Technology (RCAST) der University of Tokyo und dem Deutschen Institut für Japanstudien (DIJ) Tokyo
Registration Info
Anmeldung bitte per Email an:
forum@dijtokyo.org (die Teilnahme ist kostenfrei)
Konferenzsprachen:
Deutsch, Japanisch (simultan gedolmetscht)
Deutsch-japanisches Symposium
Klimapolitik als Chance für die Regionalentwicklung: Erneuerbare Energien in Japan und Deutschland
October 5, 2015
Japan und Deutschland sind wichtige Partner in der Klimapolitik und auf einem vergleichbaren technologischen Stand. Beide Länder verfolgen aber unterschiedliche Ansätze. Während Deutschland seit längerem den Ausbau der erneuerbaren Energien und den vollständigen Ausstieg aus der Kernenergie fördert und in ein europäisches Energienetz eingebunden ist, setzt Japan auf konventionelle Energieträger, vor allem Kernenergie, bei gleichzeitiger Förderung der erneuerbaren Energien.
Dennoch kann Japan unter dem Gesichtspunkt der erneuerbaren Energie durchaus als Land mit vielen Möglichkeiten betrachtet werden. Seine Geografie und Geologie sowie seine land- und forstwirtschaftliche Struktur bieten ein enormes Potenzial für einen Ausbau der Energiegewinnung durch Windkraft, Solarenergie und Biomasse. Hier spielt die lokale und kommunale Ebene eine entscheidende Rolle. Erste Ansätze zu deren Nutzung sind zu beobachten. Gleichzeitig stehen Kommunen in Deutschland und Japan vor schwierigen Herausforderungen angesichts von Abwanderung und Alterung, knapper öffentlicher Kassen und Arbeitslosigkeit. Viele Kommunen haben erkannt, welche Möglichkeiten und Chancen der Ausbau der erneuerbaren Energien nicht nur für die lokale Wirtschaft, aber auch für die Revitalisierung der Regionen birgt.
Unter dem Titel "Erneuerbare Energien als Mittler zwischen Klimapolitik und Regionalentwicklung – Ziele und Erfahrungen in Japan und Deutschland" bringen die Deutsche Botschaft Tokyo, das Research Center for Advanced Science and Technology (RCAST) der University of Tokyo und das Deutsche Institut für Japanstudien (DIJ) Tokyo Akteure der lokalen Ebene in Japan und Deutschland mit Experten und Praktikern aus Wirtschaft, Wissenschaft und Politik zusammen. Die Potenziale erneuerbarer Energien und alternativer Ressourcennutzung für Kommunen und Regionen sollen diskutiert und die Erfahrungen in Japan und Deutschland verglichen werden.

Presentations
10:00 - 10:15 Uhr
Begrüßung
Prof. Dr. Franz Waldenberger
Deutsches Institut für Japanstudien, Tokyo
10:15 - 11:15 Uhr
Klimapolitik – Deutsche und japanische Ansätze
Dr. Hans Carl von Werthern
Botschafter der Bundesrepublik Deutschland
Kentaro Doi
Climate Change Policy Division, Global Environment Bureau, Ministry of Environment, Japan
11:15 - 13:00 Uhr
Erneuerbare Energien und Regionalentwicklung in Japan und Deutschland
Dr. Jörg Raupach-Sumiya
Ritsumeikan Universität, Osaka
Will Community-Based Renewable Energy Projects Increase in Japan?
-
Slides
Noriaki Yamashita
Institute for Sustainable Energy Policies
Dr. Tilo Schmid-Sehl
RenEnergy Crossborder Co., Ltd.
13:00 - 14:30 Uhr
Mittagspause
14:30 - 15:15 Uhr
Bürgerbeteiligung in der Energiewende – Erfahrungen des Petitionsausschusses des Deutschen Bundestages
Gero Storjohann, MdB
Stellvertretender Vorsitzender des Petitionsausschusses des Deutschen Bundestages
15:15 - 17:20 Uhr
Podiumsdiskussion: Einbindung von Stakeholdern für eine nachhaltige Kommunalpolitik
Dr. Christian Dimmer
RCAST, The University of Tokyo
Hidetake Enomoto
Transition Town Japan Network
Mitsuo Makino
Bürgermeister von Iida City, Präfektur Nagano
Junko Owada
LOHAS Business Alliance
Luftkurort und Bioenergiedorf
-
Slides
Rudolf Schuler
Bürgermeister, "Bioenergiedorf" St. Peter, Baden-Württemberg
Prof. Masaharu Yagishita
Sophia University, Tokyo
Wilhelm Fischer
Alt-Bürgermeister, "Sonnendorf" Rettenbach am Auerberg, Bayern
17:20 - 17:30 Uhr
Schlusswort
Shikibu Oishi
Deutsche Botschaft Tokyo
17:30 Uhr - Ende
Empfang im Foyer