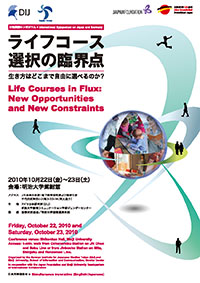 Download
Venue
Meiji University
Shikonkan Hall 3F
3-22-14 Kanda Ogawamachi
Chiyoda-ku (Meidai-dōri)
Access
Co-organizer
German Institute for Japanese Studies Tokyo (DIJ) and Meiji University, School of Information and Communication, Gender Center
Registration Info
International Conference
Life Courses in Flux
New Opportunities and New Constraints
October 22 - October 23, 2010
Japan and Germany are currently undergoing fundamental changes that have ramifications for individual life courses. Population aging and decline, as well as the ongoing restructuring of the labor market are major factors that affect individuals and society at large. 'Standardized' life courses which emerged in both countries during the time of rapid economic growth after WW II seem to be losing their dominance, but how exactly do biographies of younger people differ from those of older generations? In what way do people cope with increasing biographical freedom – and the accompanying insecurities –, and how do they negotiate the options they have? How are these transformations represented in the media and popular culture? In the realms of work, family, and housing, opportunities and constraints have to be constantly balanced out by the individual. It is these three interrelated areas which this international conference focused upon.
The presentations are in English and Japanese; simultaneous translation for presentations as well as Q&A is provided.
In cooperation with the Japan Foundation and Meiji University Headquarters of International Collaboration. Sponsored by the German Research Foundation (DFG).
Presentations
Day 1 October 22nd (Friday)
9:30
Registration
10:00
Greetings:
Florian Coulmas
German Institute for Japanese Studies
Keiko YOSHIDA, Meiji University, Gender Center
10:30-11:15
Keynote Speech I
Life Course Research in Japan: The Illusion of Diversification and the Development of Standardization
Naoko SHIMAZAKI, Waseda University
11:15-12:00
Keynote Speech II
The Life Course, Life Narratives, and Social Change: Remarks on the Auto-/Biographical Approach in the German Speaking Social Sciences
Bettina DAUSIEN, The University of Vienna
<br>12:00-13:30
Lunch Break
Session 1: Changing Life Courses and Work
Carola Hommerich
German Institute for Japanese Studies
Yukie MITOBE, Meiji University
Day 2 October 23rd (Saturday)
Session 2: Changing Life Courses and Family
Barbara Holthus
German Institute for Japanese Studies
Masayuki ESHITA, Meiji University
12:00-13:30
Lunch Break
Session 3: Changing Life Courses and Housing
Hiroo KAMIYA, Kanazawa University / Keiko YOSHIDA, Meiji University
18:00
Closing
Day 1 October 22nd (Friday)
13:30-14:00
Lost in Transition: Young Men and Life Course Disruptions in Postindustrial Japan
Mary BRINTON, Harvard University
14:00-14:30
Vocational Capabilities and Community Involvement in Post-Retirement Life
Nobuhiko MAEDA, Ritsumeikan University
14:30-15:00
Changes in the German Labor Market and the De-Standardization of Life Courses: Towards a Self-Directed Working Life?
Birgit APITZSCH, University of Duisburg-Essen
15:00-15:30
Coffee Break
15:30-16:00
Career Patterns of Female Managers in Their Thirties and Forties
Naomi USHIO, Meiji University
16:00-16:30
The Television Drama 'Tokyo Love Story' 20 Years Later: Have Images of Career Women Changed?
Alisa FREEDMAN, University of Oregon
16:30-16:45
Break
16:45-17:15
Discussion:
Jun IMAI, Tohoku University, Speakers of Session 1
Day 2 October 23rd (Saturday)
9:00-9:30
Marriage and Family Formation in Contemporary Japan: the Decline in Marriage and the Individualism Ideology
Akihiko KATO, Meiji University
09:30-10:00
Single Working Women in Hong Kong, Tokyo and Seoul: Their Desires and Choices on Marriage and Work
Hiromi Tanaka
German Institute for Japanese Studies
Yukie HIRATA, Dokkyo University, Catherine W. NG, Hong Kong Polytechnic University
10:00-10:30
Discourses on Single Women and Marriage in TV Drama
Kristina Iwata-Weickgenannt
German Institute for Japanese Studies
10:30-11:00
Coffee Break
11:00-11:30
The Decline of the Male Breadwinner? Father's Changing Position in the Family – Expectations, Pretensions and Social Practice
Michael MEUSER, TU Dortmund
11:30-12:00
Having Children is a Risk?: Salarymen's Dilemma between Work and Parenting
Futoshi TAGA, Kansai University
13:30-14:00
Continuities and Changes in Parent-Child Relationships and Kinship in Post-war Japan: Examining Bilateral Hypotheses by Analyzing the National Family Survey (NFRJ-S01)
Liping SHI, Meiji University / University of Cambridge
14:00-14:30
Young People's Housing Opportunities in the Context of Japan's Homeowner Society
Yosuke HIRAYAMA, Kobe University
14:30-15:00
The Life Course Choices after the End of the Modern Family System: The "Construction of Space" by Habitation and the "Construction of Time" from Diaries
Yūko NISHIKAWA, Independent Scholar
15:00-15:30
Coffee Break
15:30-16:00
Women's Housing Communities in Germany and their Relevance for Life Courses
16:00-16:30
Older Residents in Communal Forms of Living: What Do their Biographies Reveal about their Housing Decisions?
Maren Godzik
German Institute for Japanese Studies
16:30-17:00
Break
17:00-17:30
Discussion
17:30-18:00
Closing Keynote Speech
Ikigai and the Lifecourse in Japan Today
Gordon MATHEWS, Hong Kong Chinese University
Related Research Projects