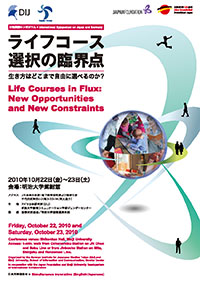 Download
Veranstaltungsort
Meiji University
Shikonkan Hall 3F
3-22-14 Kanda Ogawamachi
Chiyoda-ku (Meidai-dōri)
Zugang
Co-organizer
German Institute for Japanese Studies Tokyo (DIJ) and Meiji University, School of Information and Communication, Gender Center
Anmeldung
Die Teilnahme ist kostenlos. Um Anmeldung bis zum 18. Oktober 2010 per E-mail oder Fax: +81(0)3-3222-5420 wird gebeten.
Internationale Konferenz
Life Courses in Flux
New Opportunities and New Constraints
22. Oktober - 23. Oktober 2010
Japan und Deutschland unterliegen derzeit einem Prozess tief gehender Umwälzungen – u.a. verursacht durch Alterung und Bevölkerungsschrumpfung sowie strukturelle Veränderungen auf dem Arbeitsmarkt. Diese Dynamiken wirken sich auf die Gesellschaft als Ganzes aus und beeinflussen zugleich individuelle Lebensläufe. Die 'Standardlebensläufe', die sich in beiden Ländern während des Wirtschaftswunders nach dem Zweiten Weltkrieg entwickelt haben, scheinen ihre einstige Dominanz eingebüßt zu haben, doch wie genau unterscheiden sich Biographien heute von denen vorhergehender Generationen? Wie gehen Individuen mit der größeren Freiheit und den damit einher gehenden Unsicherheiten um? Und wie werden diese Entwicklungen in Medien und Populärkultur verhandelt? Die Konferenz mit Teilnehmern aus Japan, Deutschland, den USA und Hongkong beschäftigt sich mit drei eng miteinander verbundenen Bereichen – Arbeit, Familie und Wohnen –, in denen eine Balance gefunden werden muss zwischen Idealen und Realitäten.
In Kooperation mit Japan Foundation und Meiji University Headquarters of International Collaboration.
Gefördert durch die Deutsche Forschungsgemeinschaft (DFG)
Vorträge
Tag 1 22. Oktober (Freitag)
9:30
Registration
10:00
Greetings:
Florian Coulmas
Deutsches Institut für Japanstudien
Keiko YOSHIDA, Meiji University, Gender Center
10:30-11:15
Keynote Speech I
Life Course Research in Japan: The Illusion of Diversification and the Development of Standardization
Naoko SHIMAZAKI, Waseda University
11:15-12:00
Keynote Speech II
The Life Course, Life Narratives, and Social Change: Remarks on the Auto-/Biographical Approach in the German Speaking Social Sciences
Bettina DAUSIEN, The University of Vienna
<br>12:00-13:30
Lunch Break
Session 1: Changing Life Courses and Work
Carola Hommerich
Deutsches Institut für Japanstudien
Yukie MITOBE, Meiji University
Tag 2 23. Oktober (Samstag)
Session 2: Changing Life Courses and Family
Barbara Holthus
Deutsches Institut für Japanstudien
Masayuki ESHITA, Meiji University
12:00-13:30
Lunch Break
Session 3: Changing Life Courses and Housing
Hiroo KAMIYA, Kanazawa University / Keiko YOSHIDA, Meiji University
18:00
Closing
Tag 1 22. Oktober (Freitag)
13:30-14:00
Lost in Transition: Young Men and Life Course Disruptions in Postindustrial Japan
Mary BRINTON, Harvard University
14:00-14:30
Vocational Capabilities and Community Involvement in Post-Retirement Life
Nobuhiko MAEDA, Ritsumeikan University
14:30-15:00
Changes in the German Labor Market and the De-Standardization of Life Courses: Towards a Self-Directed Working Life?
Birgit APITZSCH, University of Duisburg-Essen
15:00-15:30
Coffee Break
15:30-16:00
Career Patterns of Female Managers in Their Thirties and Forties
Naomi USHIO, Meiji University
16:00-16:30
The Television Drama 'Tokyo Love Story' 20 Years Later: Have Images of Career Women Changed?
Alisa FREEDMAN, University of Oregon
16:30-16:45
Break
16:45-17:15
Discussion:
Jun IMAI, Tohoku University, Speakers of Session 1
Tag 2 23. Oktober (Samstag)
9:00-9:30
Marriage and Family Formation in Contemporary Japan: the Decline in Marriage and the Individualism Ideology
Akihiko KATO, Meiji University
09:30-10:00
Single Working Women in Hong Kong, Tokyo and Seoul: Their Desires and Choices on Marriage and Work
Hiromi Tanaka
Deutsches Institut für Japanstudien
Yukie HIRATA, Dokkyo University, Catherine W. NG, Hong Kong Polytechnic University
10:00-10:30
Discourses on Single Women and Marriage in TV Drama
Kristina Iwata-Weickgenannt
Deutsches Institut für Japanstudien
10:30-11:00
Coffee Break
11:00-11:30
The Decline of the Male Breadwinner? Father's Changing Position in the Family – Expectations, Pretensions and Social Practice
Michael MEUSER, TU Dortmund
11:30-12:00
Having Children is a Risk?: Salarymen's Dilemma between Work and Parenting
Futoshi TAGA, Kansai University
13:30-14:00
Continuities and Changes in Parent-Child Relationships and Kinship in Post-war Japan: Examining Bilateral Hypotheses by Analyzing the National Family Survey (NFRJ-S01)
Liping SHI, Meiji University / University of Cambridge
14:00-14:30
Young People's Housing Opportunities in the Context of Japan's Homeowner Society
Yosuke HIRAYAMA, Kobe University
14:30-15:00
The Life Course Choices after the End of the Modern Family System: The "Construction of Space" by Habitation and the "Construction of Time" from Diaries
Yūko NISHIKAWA, Independent Scholar
15:00-15:30
Coffee Break
15:30-16:00
Women's Housing Communities in Germany and their Relevance for Life Courses
16:00-16:30
Older Residents in Communal Forms of Living: What Do their Biographies Reveal about their Housing Decisions?
Maren Godzik
Deutsches Institut für Japanstudien
16:30-17:00
Break
17:00-17:30
Discussion
17:30-18:00
Closing Keynote Speech
Ikigai and the Lifecourse in Japan Today
Gordon MATHEWS, Hong Kong Chinese University
Verwandte Forschungsprojekte