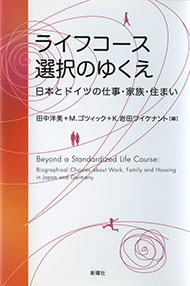 Details
2013, ISBN 9784788513242, Shinyōsha, Tokyo, 380 p.
Authors
Iwata-Weickgenannt, Kristina
Tanaka, Hiromi
Godzik, Maren
Beyond a Standardized Life Course
Biographical Choices about Work, Family and Housing in Japan and Germany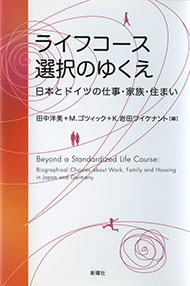 This volume compares Japan and Germany from the perspective of life-course research. Divided into the three interrelated sections work, family and housing, the chapters explore the effects socio-economic issues such as population aging and the ongoing restructuring of the labor market have on individual choices. Throughout the book, particular attention is paid to issues arising from gender and age differences. The analysis of media representations of the changing life-course is another distinguishing feature of the book.
Content
Shimazaki, Naoko
'Diversification of Individual Lives' and Life Courses: Institutionalization, Standardization, Individualization in Japan
pp. 2-22
Imai, Jun
Employment Reforms and Career: Diversification of Work and the Workers' Conflicts over 'Individual Lives' in Japan
pp.50-73
Kamata, Akihito
Working without Being Employed: Life Courses and Signs of 'New Way of Work' In Japan
pp. 74-102
Ishiguro, Kuniko; Matanle, Peter
Men's and Women's Life Courses in Salaryman Manga: Analysis of Shima Kosaku and Salaryman Kintaro
pp. 103-132
Apitzsch, Birgit
Flexibilization in The German Labor Market: Towards a Self-Directed Working Life in Germany's Media Industry?
pp. 133-157
Tanaka, Hiromi
Biographical Choices of Unmarried Employed Women: 'Normal Deviance' in the Japanese Context
pp. 158-183
Iwata-Weickgenannt, Kristina
De-standardization of Life Courses and Representations of Singlehood in the TV Dramas Around 40 and Konkatasu
pp. 184-208
Hidaka, Yoshida
Place without a Wife: Time and Space of 'Boku' in Murakami's The Wind-Up Bird Chronicle
pp. 209-231
Taga, Futoshi
Children as Risk? The Changing Meaning of Childrearing for Japanese Male Employees' Life
pp. 232-253
Meuser, Michael
The Discovery of the 'New Fathers': The Ambivalence of Active Fatherhood in Germany
pp. 254-276
Hirayama, Yosuke
Young People's Life Courses and Housing Policy in Japan
pp. 276-301
Godzik, Maren
Life Courses, Housing and Elderly Women in Japan: Why do They Choose Communal Living?
pp. 302-332
Becker, Ruth
The Post-war Development of Women's Life Patterns and Housing in Germany
pp. 332-359
Mathews, Gordon
Ikigai [purpose in life] and Changing Life Courses in Japan
pp. 360-380
Current DIJ Projects