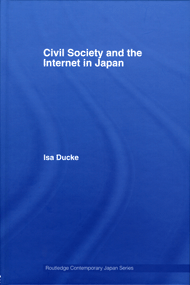 Details
2007, ISBN 10-0-4-15-41864-X, £ 70.00, Routledge, London and New York, 194 p.
Civil Society and the Internet in Japan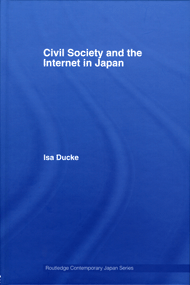 Civil society has gained prominence lately due to recent changes
brought about by globalization and population ageing. This is nowhere
more in evidence than in Japan, making the role of Japanese civil
society actors crucial in preparing society for change. New
technologies have the potential to support the work of civil society
organizations and increase their efficiency. However, empirical studies
on the use of new information and communication technologies (ICT),
most notably the Internet, by civil society organizations in Japan are
still rare.
Civil Society
and the lnternet in Japan addresses this
hitherto neglected area of study, asking how citizen groups utilize the
Internet and how significant it is in their effectiveness. Isa Ducke
provides an introduction into the theory regarding technological impact
on democracy and this is supported with a series of fascinating case
studies that take a closer look at the role of the Internet during the
history textbook controversy; analyse the strategies of small citizen's
groups; make comparisons between Internet use in Japan, Korea and
Germany; and examine how the Internet is used as a platform to discuss
the dispatch of Japanese troops to Iraq.
Providing original qualitative and quantitative research
based on
extensive empirical data, Civil Society and the lnternet in Japan will
be of interest to students and scholars of Japanese politics, media and
information technology and civil society.
From 2001 to 2006 Isa Ducke was a research fellow at the DIJ.