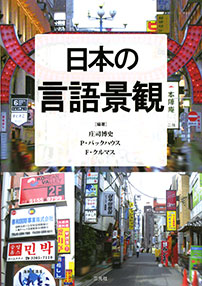 Details
2009, ISBN 978-4-88303-185-6, ¥ 2,100 +税, Sangensha, Tokyo, 206 p.
[Order]
Authors
Backhaus, Peter
Coulmas, Florian
Shōji, Hiroshi
Nihon no gengo keikan (Japan's linguistic landscape)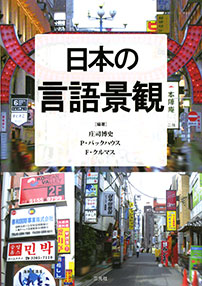 The term "linguistic landscape" refers to written language in public space. It was first defined by the Canadian sociolinguists R. Landry and R.Y. Bourhis as "the visibility and salience of languages on public and commercial signs in a given territory or region". In recent years, the linguistic landscape has attracted much interest by researchers worldwide, including Japan.

The present publication is the first book-length account of Japan's linguistic landscape. Analyzing both its history and its present state, the papers collected in this volume show how Japan's changing linguistic landscape can be read as reflective of major changes in Japanese society.
Contents
pp. 9-15

庄司博史、P. バックハウス、F. クルマス
序文:日本の言語景観―西欧化、国際化、そして多民族化
pp. 17-52

庄司博史
多言語化と言語景観―言語景観からなにがみえるか

pp. 53-78

井上史雄
経済言語学からみた言語景観:過去と現在

pp. 79-94

F. クルマス
言語景観と公共圏の起源

pp. 95-122

染谷裕子
言語景観の中の看板表記とその地域差:小田急線沿線の実態調査報告

pp. 123-144

佐渡島紗織、小林良子、齋藤眞美
地下鉄案内板にみるローマ字表記―東京における1999年の実態

pp. 145-170

P. バックハウス
日本の言語景観の行政的背景―東京を事例として

pp. 171-186

山城完治
視覚障害者にとっての言語景観―東京山手線の点字調査から

pp. 187-205

金美善
言語景観における移民言語のあらわれかた-コリアンコミュニティの言語変容を事例に