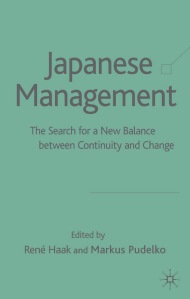 Einzelheiten
2005, ISBN 1-4039-4194-7, £55.00, Palgrave, 280 S.
Autoren
Haak, René
Pudelko, Markus
Japanese Management. The Search for a New Balance between Continuity and Change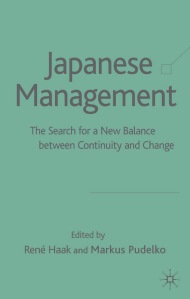 Japanese management is currently considered to be in crisis. This book analyzes the degree to which the Japanese management model is changing, in order to regain its competitiveness. It brings together up-to-date research on this important topic by a number of the best known American, Asian and European scholars of Japanese management. A broad variety of management areas such as strategy, corporate governance, globalization, organization, finance, HRM , production, innovation, organizational learning and retailing is covered.
 CONTENTS:
List of Figures and Tables
List of Abbreviations and Acronyms
Notes on the Contributors
I. Hijiya-Kirschnereit: Foreword
M. Pudelko & R. Haak: The Current State of the Japanese Economy and Challenges for Japanese Management: An Overview
D. Methé: Continuity through Change in Japanese Management: institutional and Strategic influences
R. J. Ballon: Organizational Survival
S. L. Beechler: The Long Road to Globalization: In Search of a New Balance between Continuity and Change in Japanese MNCs
R. Dore: Innovation for Whom?
K Teramoto & C. Benton: Organizational Learning Mechanisms for Corporate Revitalization
L. Nottage & L. Wolff: Corporate Governance and Law Reform in Japan: From the Lost Decade to the End of History?
J.C. Abegglen: A Perfect Financial Storm
M. Pudelko: Japanese Human Resource Management: From Being a Miracle to Needing One?
R. Haak: Japanese Production Management: Organizational Learning at the Confluence of Knowledge Transfer, Technology Development and Work
M. Pudelko: Organization – Continuity vs. Change: The Key Dilemma for Japanese Management
Index